The Queue: Thousand yard stare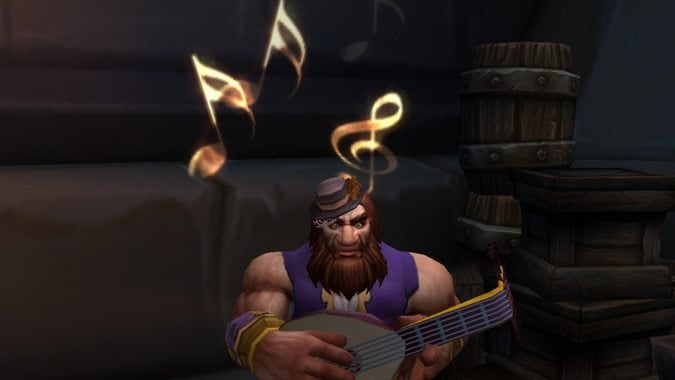 Welcome back to The Queue, our daily Q&A feature for all of Blizzard's games! Have a question for the Blizzard Watch staff? Leave it in the comments!
The Hired Bard in the Hall of Shadows has seen some things. But I guess that's what you get when you're working for the Uncrowned, right?
---
CM HARRIS ASKED:
QFTQ: If I and a friend wanted to duo Legion normals what would be the two best classes to bring?
Death Knight and Druid. DK's are pretty unstoppable — or at least that's what we've seen so far on the leveling stream. As for Druids, they can both heal and DPS if healing isn't needed. Alternatively you could probably do a Monk or Paladin instead of the Druid, but I've grown pretty fond of the class, which is why I recommend it!
---
MISTAH JAY ASKED:
Q4tQ: What player ability would you take from any (non-Blizzard) game you've ever played and put into WoW, what class/spec would have it, and why that ability?
There's this rogue ability in Dragon Age: Inquisition — it's in the Tempest specialization. It's called "Thousand Cuts." It's kind of like Killing Spree, only it's 300% weapon damage, and the number of cuts you make is based on the tier of the ability. Highest tier, you hit 38 times and basically instantly carve things into fine, sandwich-quality slices.
I'll take that for Rogues, please?
---
GALDWYNN ASKED:
Q4tQ: Are you taking advantage of the free Overwatch weekend?
I already have Overwatch, so there's no reason to participate in a freebie weekend. But if you don't have the game and want to see how it works, it's definitely worth checking out! Plus if you decide you like the game and you do want to pick it up, all the stuff you earned while you were playing for free carries right on over. No wasted Loot Box goodies!
---
RC THE PUMPKIN QUEEN ASKED:
Q4tQ: Can people/things not connected to the Emerald Dream be corrupted by the Nightmare?
If you can dream, you can be corrupted by the Nightmare. In the novel Stormrage, that was one of the big plot elements — people were being affected while they slept. It was pretty creepy, and honestly it felt a lot more threatening than what was going on over in Val'sharah.
---
EL CHEESHEAD ASKED:
Q4Q: I've been enjoying the history questions in the 12th anniversary daily quest. Did Blizzard write them just for this quest, or were they lifted out of something like the WoW trivial pursuit game?
I think they were done specifically for the event — they definitely aren't from the Trivial Pursuit game. I haven't even seen any overlap with the questions asked over on the Timeless Isle during Mists. I am,  however, thoroughly enjoying the opportunity to stockpile badges while I can!
That's it for today's Queue — if you have any questions you'd like to see answered, be sure to leave them in the comments below!