The Queue: I love elf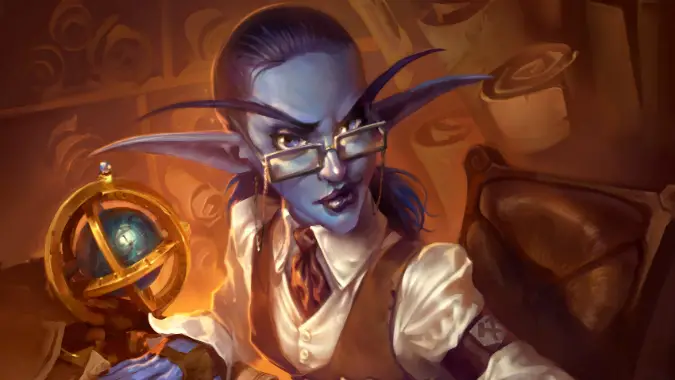 Welcome back to The Queue, our daily Q&A feature for all of Blizzard's games! Have a question for the Blizzard Watch staff? Leave it in the comments!
---
PEPE STORMSTOUT ASKED:
What is your favorite card art (not card, just the artwork) from Mean Streets of Gadgetzan?
It's easily the Daring Reporter. I love elves; I love unusual elves even more. There's something about seeing Night Elves in somewhat modern clothing that tickles my fancy. That was true with Elise Starseeker from League of Explorers, too. They represent something outside the norm, beyond the usual fantasy fare, and I freakin' adore it. I honestly want to play an RPG in Hearthstone's version of Azeroth. I want to actually interact with all of these characters who break the mold.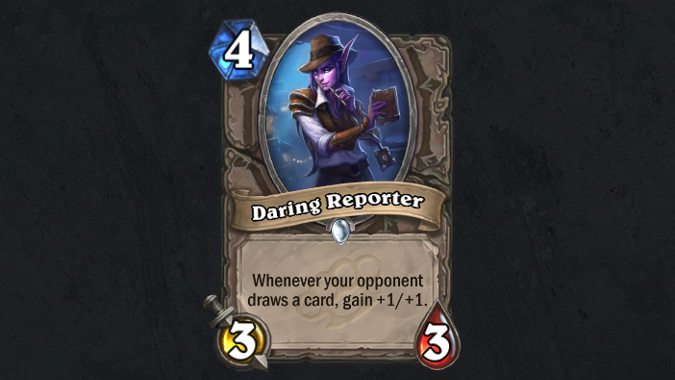 ---
COGLINE ASKED:
Is there a limit to the number of World Quests you can have available in a zone?
I am only doing the ones that reward Artifact Power and am wondering if I am keeping some from spawning because I have too many up in a particular zone.
The limit is based entirely on their expiration timers. You can't cause more or less of them to appear by doing or not doing them. The same ones spawn for everyone on the same timers. As far as I know, nothing you do has any impact on this. X number of quests will appear every Y number of hours and they will build up until their expiration timers start to kick in, paving the way for new spawns. Completing them early won't accelerate the spawn. Failing to complete them won't block new spawns.
It all just kinda happens on its own.
---
CHRTH ASKED:
Did you pick up "Final" Fantasy XV today?
I wanted to. I really, really did. I want to play it so bad. But I have to be realistic about the time available to me and I just can't commit to an uber-long JRPG. Blizzard Watch and all of my other work keeps me pretty darn busy and that means making hard choices about my playtime … and honestly, Blizzard Watch kinda necessitates I put a significant amount of that time into Blizzard games.
Final Fantasy XV, I want to play you, but it's not meant to be.
---
CHRTH ALSO ASKED:
What do you think is a good ilvl to get alts to in preparation for the Broken Shore (before benching them until said shore)? Is i820/i825 good, or should I aim for something like i840?
At this point, it's almost impossible to say. Patch 7.2 isn't on the PTR and isn't even close to being on the PTR. We don't even have an idea of their tuning goals. Do they want players to be able to jump directly to patch 7.2 content? Will they still expect up-and-coming players to go through the entirety of Legion progression before reaching it? We don't know.
If looking at ilevels 820 and 840 specifically, my wild guess says lean more toward 840. In my experience, 840 isn't difficult at all to obtain. If they're making the patch 7.2 content accessible to everyone, 840 will put you in a healthy place. If they're aiming for it to be difficult, it would put you closer to the goal.
And that's all for today's Queue. It's a bit of a short one, but Liz has already been desperate for questions for tomorrow's Queue, so hopefully it's understandable. Leave her lots of good questions — and maybe some for Friday, too.