The Queue: Oh, hi there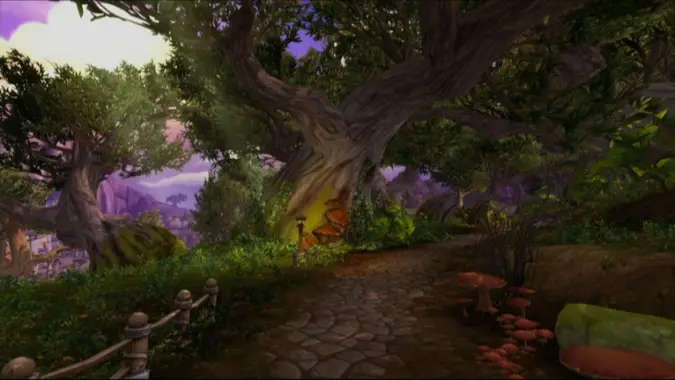 Welcome back to The Queue, our daily Q&A feature for all of Blizzard's games! Have a question for the Blizzard Watch staff? Leave it in the comments!
Oh hello. Your usual Monday question-answerer is indisposed today, so I'm answering your questions instead. I hope that's all right. Have a screenshot of an idyllic bit of Azsuna landscape, settle in, and let's get this started, shall we?
---
ORACLE JINX COMMENTED:
Looking at Wowhead's page for the Twelve-string Guitar and the Town Portal book toys, neither have actual special animations?? The guitar doesn't show a guitar in your hands. The Town Portal just makes you do your normal green nature magic hearthstone spell animation.
This is correct…sort of. The guitar makes little music notes appear over your head, but your character isn't actually holding a guitar. Both do have unique sounds — obviously the guitar plays that really nice guitar track from Diablo, and the Town Portal plays a Diablo teleportation noise rather than the standard hearthstone sound.
While yes, I do wish we our characters actually held a guitar — there are a few NPCs scattered around that do this, including a chicken in Mistfall Village — I can't say I'm super bent out of shape about it. I also sort of wish the Town Portal had a portal visual like the Treasure Goblin portals. Doesn't have to be something we click to walk through, just have it pop up while casting. But since the whole thing is a bonus event and the items are just a couple of toys, I'm not super annoyed about it or anything.
---
MAALIN ASKED:
Q4tQ: If I've opened one extra tint for the hidden appearance of my artifact, can I use that version for the other "do X dungeons using a hidden appearance"?
Absolutely! It doesn't matter if it's the original unlock or an extra tint, any of the hidden appearances will do.
---
GEVAH ASKED:
Did Blizzard "nerf" pick pocket in Legion? so far all i get is few copper and sometimes food which is useful sometimes, other than that i'm not getting anything else, where are the lock boxes? the grey items?
I've been getting grey items pretty regularly (harpies in particular usually carry nothing but twine). Just the other day I got Marin Noggenfogger's Lucky Coin from pickpocketing a mob. After turning it in to Marin, I got to choose another piece of loot from the vault. So pickpocketing isn't really as involved this expansion as it was in Warlords — I can't seem to fence anything Legion-pickpocketed with Griftah — but there are a few things out there to discover, apparently.
Oh, and lock boxes? Yeah I've got no idea where those are, either! I made lockpicks to open them with, but I have never seen a lockbox drop. Anywhere.
---
GALDWYNN ASKED:
Q4tQ: are PC and console versions of Overwatch patched at the same time?
Not necessarily. There have been a few instances where the PC version got a patch before the console version got it — usually the patches are released very close together, though. You won't be sitting for weeks waiting for a patch on console while the PC players have it. Usually it's not more than a day or two, if I'm remembering correctly — they don't want a big gap between PC and console patches.
---
MYTHRIAK ASKED:
We're getting Nighthold in 7.2, right? Will that open the Broken Shore isle quests too (Tanaan Jungle style) or will it only unlock when Tomb of Sargeras gets live?
Nighthold isn't part of 7.2 — it will be released a week from tomorrow, on January 17. 7.2 is when we'll be getting the Tomb of Sargeras raid, and the Broken Shore quests you mentioned. That one hasn't even hit the PTR yet (although with the launch of 7.1.5 tomorrow, I'd say we'll see 7.2 on the PTR fairly soon).
That's it for today's Queue — if you have any questions you'd like to see answered, be sure to leave them in the comments below!