The Queue: Chase the chicken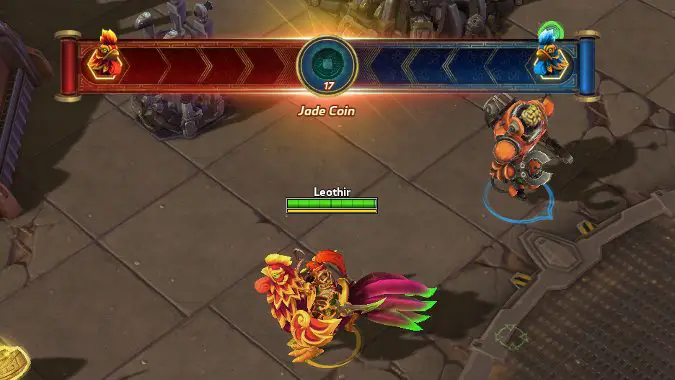 Welcome back to The Queue, our daily Q&A feature for all of Blizzard's games! Have a question for the Blizzard Watch staff? Leave it in the comments!
---
VALENCEMAGI ASKED:
Any one have any clue what the rooster chase is supposed to be in HotS? Cause it seems to just be something that everyone fails at doing.
People haven't figured it out yet and, honestly, it's pretty tough for a coordinated team to finish in the time allowed even when you do know how to do it.
As you can see in today's header image, the item the rooster wants will be displayed at the top of you screen. Someone must pick up that item and take it to the rooster. You need to turn in 4 items before the time runs out — and before the enemy team completes it, too. If everyone on the team picks up a different item, theoretically you can turn them in one after the other in rapid succession. Sometimes, though, the rooster will ask for a duplicate and that tends to be where you get screwed. If it wants, say… gold, then a flower, then gold again, but the second gold spawned a mile away, you're going to waste a ton of time trying to get that gold.
I think it's a little too difficult for what's supposed to be a fun minigame. One person not knowing what they're doing can screw it all up and there's not nearly enough time to explain how it works before you've run out the timer. It's a rage generator before the match has even started.
---
RANDOMGUY67 ASKED:
Did Nighthold LFR open today? If so, is it all wings or no?
It's only the first wing of Nighthold which includes Skorpyron, Trilliax, and Chronomatic Anomaly, all of which sound like the names of EDM artists.
---
@HAWKINSON88 ASKED:
are you excited for T6 remake as the tier gear? I feel some just don't work in Legions theme (gronn stalker?)
I'm both excited and not excited? I've been a proponent of them doing hi-res versions of old favorite armor. In some cases, they stay true to the original and the set generally looks like the old one, but modernized. In other cases, they slap extra bells and whistles onto the set and ruin it. I'm certainly not opposed to them revamping old stuff, though. I've seen people call it "lazy" and man, whatever. Those old sets are cool. If they can update them to WoW's more modern graphical fidelity and keep them cool, I think that's awesome.
I honestly don't care about the "theme" though. Sometimes Blizzard trying to stick too hard to a theme means we get some seriously ugly nonsense. I'm thinking Firelands tier sets here. Someone glued miniaturized versions of Ragnaros's house to some dirty linen pajamas for Paladins. It was like one of those joke cosplayers who glue garbage to themselves. "I'm cosplaying the Eiffel Tower! Made out of sticks my dog brought home!"
Do what's cool. Screw consistent theming. The class matters and that's all.
---
@TABBYTHA1750 ASKED:
Why don't you call them Queuestions?
Because that would be ridiqueuelous.