D.Va boosts into the Nexus in latest hero spotlight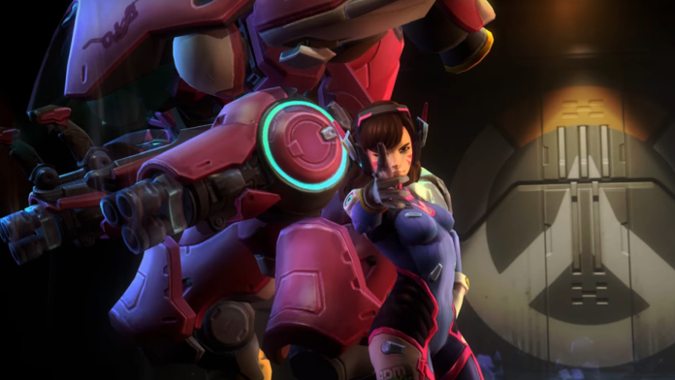 D.Va of Overwatch was announced as the next character to enter Heroes of the Storm via cinematic back at the end of April. Today's spotlight sheds some light on exactly how she'll play in Heroes.
In many ways, D.Va plays as you might expect if you have any familarity with her Overwatch incarnation: She has boosters to increase her Meka's speed and displace enemies, she can attack on the move in a cone, her Defense Matrix reduces enemy damage dealt, and when her Meka dies, D.Va pops out to plink away at her enemies with her pistol. In Heroes of the Storm, however, her Meka's self-destruct is not her Ultimate/Heroic: It's a basic ability on her E. Self-Destruct deals damage in an enormous area, but has a long cooldown which can be reduced via attacking enemies with D.Va's pistol.
Her Heroic Abilities are completely new to the character: Bunny Hop and Big Shot. Bunny Hop, used in Meka form, is a truly absurd display … hopping around like a bunny, dealing damage, slowing enemies, and granting D.Va Unstoppable status for the duration. Big Shot, a Heroic for D.Va's human form, is a long-range skillshot that pierces multiple enemies and greatly decreases the cooldown on summoning a new Meka.
Which of her Heroic Abilities is favored (assuming it's an option and you don't get both) is going to be greatly dependent on just how tanky D.Va turns out to be. If the Meka has the ability to soak up serious damage, the Unstoppable granted by Bunny Hop will be an incredible tanking tool. However, if D.Va is getting knocked out of her mech constantly, using Big Shot to get it back that much faster might be essential.
D.Va will be arriving on the PTR later today, so it won't be long before we start hearing players' firsthand reactions to her gameplay.