Diablo Necromancer beta is back online with Legendaries, Campaign mode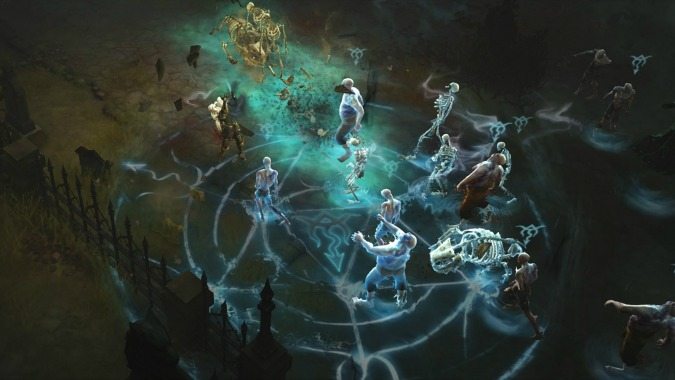 We've been eager to check out the Necromancer in Diablo 3 since it was announced way back at BlizzCon — but the relatively short closed beta didn't give us much of a chance. Fortunately for Diablo fans, the beta is back online with some all-new content. In addition to the Necromancer itself, the latest beta build includes class-specific gear and Legendaries as well as Campaign mode.
Unfortunately, playing the Necromancer still requires an invitation — and if you don't have one, you're still stuck waiting. If you haven't already, you can sign up for the chance at a beta invite: just head to your beta profile setting and click the checkbox next to Diablo. This won't guarantee you an invite, but gives you a chance. There's still no word on when the Necromancer is coming to Diablo or what it will cost, so there's probably plenty of time to get in on the beta. (Or just plenty of time to kill making your ay through Season 10.)
While you wait for your beta invite to roll in, check out the latest PTR patch notes, which includes Necromancer updates and a run-down of class Legendaries. If you just want to check out what's new, updates are highlighted in red.
Bone / Pet Set)
(2) Set Bonus

Your pets have a chance to reduce the cooldown of Army of the Dead by 1 second each time they deal damage

(4) Set Bonus

You gain 1% damage reduction

for 5 seconds

each time your pets deal damage. Max 50 stacks.

<(6) Set Bonus

Each active Skeleton Mage increases the damage of your minions and Army of the Dead by 200%
Trag'Oul's Avatar

([PH] Blood Set)
(2) Set Bonus

Blood Rush gains the effect of every rune

(4) Set Bonus

While at full life, your healing from skills is added to your maximum life for 45 seconds. Up to 100% more.

(6) Set Bonus

Spending 10% life grants you a stack of Blood Cascade

up to 50 times

. Each stack of Blood Cascade increases the damage of life-spending attacks by 200% and also increases the life you lose by 10%. Using a skill to heal will consume a stack and heal for an additional 300%.

Healing from skills consumes one stack regardless of how many targets are hit

Command Skeletons: Dark Mending and Land of the Dead: Land of Plenty no longer consume stacks or receive increased healing
Grace of Inarius

([PH] Saint Set)
(2) Set Bonus

Bone Armor's damage is increased by 1000%

(4) Set Bonus

Bone Armor stacks are now refreshed. In addition, Bone Armor grants an additional 2% damage reduction per enemy hit

(6) Set Bonus

Bone Armor also activates a Bone Tornado damaging nearby enemies by 375% weapon damage per second

as Physical

. Enemies hit by the tornado take 850% additional damage from the Necromancer's abilities and minions
Pestilence Master's Shroud

([PH] Melee Set)
(2) Set Bonus

Each corpse you consume fires a

Corpse Lance

corpse fragment at a nearby enemy

, dealing 800% weapon damage

(4) Set Bonus

Each enemy hit by Bone Spear reduces your damage taken by 2% up to a maximum of 50%. Lasts 15 seconds.

(6) Set Bonus

Each corpse you consume grants you an Empowered Bone Spear charge that increases the damage of your next Bone Spear by 1000%
Jairoan Arms
(2) Set Bonus

Army of the Dead gains the effect of the Unconventional Warfare rune
Bug Fixes
Fixed an issue causing phylacteries to roll only the lowest possible damage value
ADVENTURE MODE
New Zones: The Moors & The Temple of the Firstborn

The fog-enshrouded Moors and the darkened Temple of the Firstborn can be explored in Adventure Mode through a new waypoint on the Act 2 map.

Set Dungeons

The user interface has been updated to better explain tier completion requirements.

With this, the basic completion tier must be finished within the given time limit.

The time limit to complete a Set Dungeon has been increased to 5 minutes
Necromancer Set Dungeons have been added to Adventure Mode

Set dungeon monsters are now tracked on the mini-map when the dungeon begins

All Basic Tier monster kill requirements have been lowered

Bounties

Four new Waypoints have appeared in Act IV. Each one has bounties to complete. These Realms of Fate are the unintended consequences of the battle between the nephalem and Diablo in the High Heavens.

Greater Rifts

Players who die in solo Greater Rifts can now choose to immediately resurrect. When choosing this option, the time remaining on your death timer will be removed from the remaining Greater Rift time and your cooldowns will be advanced by the same amount.

Bug Fixes

Fixed an issue which sometimes prevented players from completing the "Clear the Forgotten Well" bounty
PTR ONLY
D'jank Miem

Players can exchange Blood Shards with this vendor for bags containing gear

The cost per bag has been set to

500

200.

Players will now be able to purchase bags containing new Legendary items in addition to the previous bags containing Set items