Sun's Out, Guns Out in Heroes of the Storm summer event
Get your Speedo ready, because it's time to earn big prizes in the Sun's Out, Guns Out event in Heroes of the Storm. This event, which includes new skins, sprays, mounts, portraits, and more begins today, June 27, and lasts until the week of July 24. During this event, all earned and purchased Loot Chests (other than character-specific Loot Chests) will be Sun's Out, Guns Out chests which contain the new items.
Between Friday, June 30 and Thursday, July 6, Heroes of the Storm will be running its newest, appropriately thematic brawl: Pull Party. Pull Party is a 5 vs. 5 brawl wherein everyone is playing Stitches. A pool divides the playing field in half and the goal is to pull your opponents to your side of the pool — so you can brutally murder them.
Rules
All players spawn as Stitches —Bikini Stitches!
Use Stitches' Hook to pull enemies over to your side of the pool so that your team can kill them.

Hook's cooldown is greatly reduced. It also travels much slower and farther than usual.
There's no XP, no leveling, and no talents.

Helping Hand is always active, allowing you to Hook allies as well as enemies.

Hooking an ally or enemy who is already being pulled will kill them instantly.
Doing this to one of your teammates denies the enemy team a kill.

The first team to 20 kills wins!
Rewards
Complete three Pull Party matches to earn a Sun's Out, Guns Out Loot Chest!
Starting Friday, June 30, weekly Brawl rewards will grant one Sun's Out, Guns Out Loot Chest. This will last until July 28, which is the Friday after our Sun's Out, Guns Out event concludes.
In addition to the above, your first win each day (in any game mode!) throughout Sun's Out, Guns Out will earn an entry into Heroes of the Storm's summer sweepstakes. Prizes range from 5 Loot Boxes on the low end, all the way up to a Grand Prize of an all expenses paid trip to BlizzCon for two.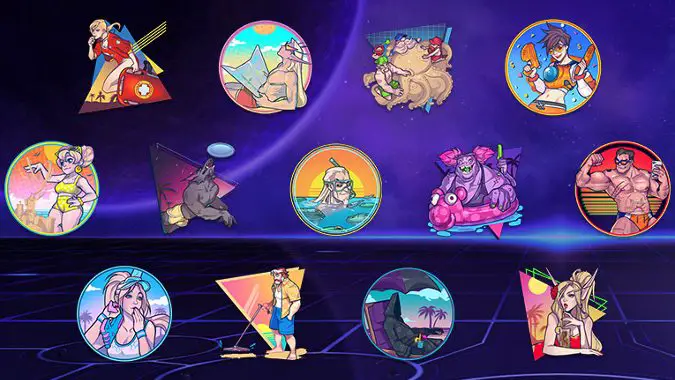 Personally, I wholly approve of beach bod Tychus. That said, if I get nothing out of this event but that Valeera spray, I'll be happy. I want to take that Valeera spray out on a nice romantic date where I say all of the wrong things and I'm not sure if I'm supposed to say goodnight or what, so I try walking her to her door and end up tripping on my shoelaces and giving myself a concussion and I'm way too embarrassed to ever call her again because she's totally out of my league and oh no I'm such an idiot why do I always do this to myself? Wait, what were we talking about?