Kel'Thuzad's ability overview reveals the true meaning of cold dark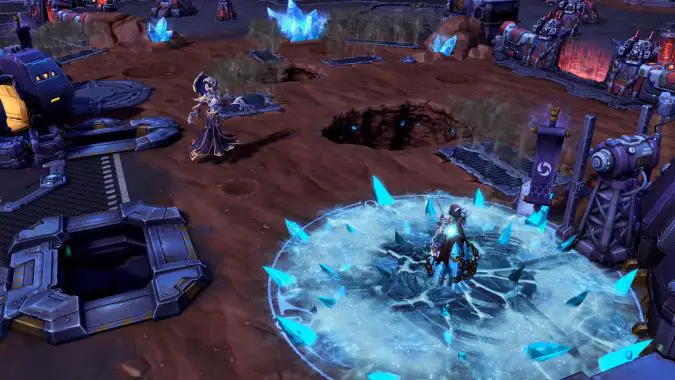 I'm still happy-crying over today's Kel'Thuzad reveal as the next hero coming to the Nexus. Everything else — the Dreadlord Jaina skin, the Call of Kel'Thuzad event to celebrate his arrival, this cat-creature-thing that may or may not be a Bigglesworth skin — is just icing on the cake. And speaking of icing, Kel'Thuzad's abilities are already live for perusal on his hero page, and they bring home the idea of the Necromancer as a wielder of Shadowfrost magic.
A key to Kel'Thuzad will be utilizing his trait to build stacks of Blight. His kit doesn't look as bursty as some Assassins, but it certainly is going to disrupt the heck out of enemies, thanks to a plethora of stuns, roots, and chains. Combined with his traits, he'll be a deadly hero that'll make escaping team fights incredibly difficult for the other team. Take a look:
Master of the Cold Dark (Trait)

Quest: Gain 1 Blight every time a Hero is Rooted by Frost Nova or hit by Chains of Kel'Thuzad.

Reward: After gaining 15 Blight, the cooldown of all Basic Abilities is reduced by 2 seconds.

Reward: After gaining 30 Blight, gain 75% Spell Power.

Death and Decay (Q) — After 0.5 seconds, launch an orb that explodes upon hitting an enemy, dealing 150 damage to enemies in the area. The explosion leaves behind a pool of decay that lasts 2 seconds, dealing 70 damage every 0.5 seconds to enemies.
Frost Nova (W) — Create a nova that explodes after 1 second, dealing 212 damage to enemies inside and Slowing them by 35% for 2.5 seconds. Enemies in the center are Rooted for 1 second.
Chains of Kel'Thuzad (E) — Launch a chain, dealing 97 damage to the first enemy Hero or Structure hit. For 4 seconds after hitting an enemy, Chains can be reactivated to launch to an additional enemy, pulling both enemies together and Stunning them for 0.5 seconds.
Frost Blast (R) — Launch a meteor of ice at an enemy Hero. Upon impact, the meteor deals 100 damage to its target and 275 damage to enemies in the area. All enemies hit by Frozen Tomb are Rooted for 1.5 seconds.
Shadow Fissure (R) — Create a fissure anywhere on the Battleground that explodes after 1.5 seconds, dealing 440 damage to enemy Heroes in its area.
We don't have a Hero Spotlight for Kel'Thuzad just yet, but I'm not going to complain about that. We have Kel'Thuzad, both in cartoon and in-game form. That's enough for me. Plus, his abilities are fairly straightforward and already paint a good picture of what we should expect from him when he arrives in the near future. I don't know about you, but I'm hyped!