D.va gains Micro-Missiles, loses Defense Matrix uptime in upcoming redesign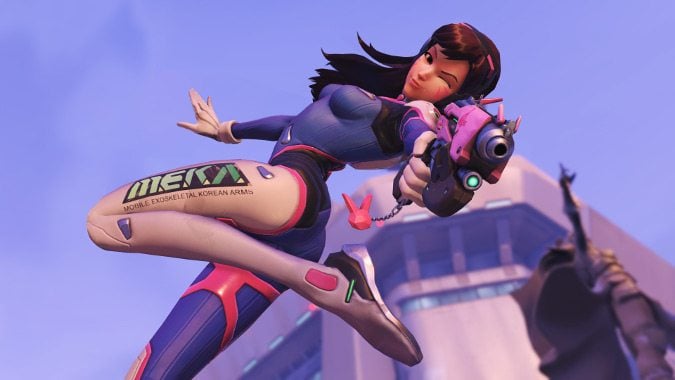 If you're a D.Va player, you may love or hate Defense Matrix, but either way it's about to change. Overwatch Principal Designer Geoff Goodman dropped the news on the official forums. The team has already made several changes to how D.Va plays internally, which will be rolled out to the PTR for players to have a look at.
A quick look at the changes indicates that the team is definitely looking to pull back on Defense Matrix. While it's a very powerful team defense ability, it also removes all of D.Va's fun mobility and keeps players on the back foot, reacting instead of acting. By scaling back how long you can keep Defense Matrix active, allowing D.Va to fire her Fusion Cannon while flying, and adding in the new Micro-Missiles ability, D.Va shifts from a reactive to an active playstyle.
Micro-Missiles in particular should be interesting, because she can use it while using something else — while firing Fusion Cannon, for example. This means she can pack a lot more damage into an attack. It definitely makes for a more wanton all out offense style of play.
To take a look at what Blizzard is thinking, check out the official forums or read the post below.
Actually, we've made some significant changes to D.Va internally and have been testing them for a while now. Here are the changes we've made:
Defense Matrix: Energy drain increased by 2x. This means her effective uptime for this ability has been reduced by 50%.
Boosters: D.Va can now use her Fusion Cannons while flying.
New ability – Micro Missiles: D.Va launches a long salvo of small missiles that explode on impact, dealing damage in a small radius around them. This ability can be used while using her other abilities or firing her Fusion Cannons.
The combination of these changes allow her to play more aggressively and deal more damage, at the cost of being able to Defense Matrix as often as before. Defense Matrix still remains an extremely powerful tool when timed correctly, but the reduced uptime means D.Va won't be able to use it nearly as often overall.
Her new Micro Missiles ability in combination with her ability to fire while flying allow for some more aggressive play, as well as opening up some new options versus heroes such as Pharah.
Overall the goal here is to reduce her reliance on Defense Matrix and make her more fun to play. As far as balancing goes, we want to nerf Defense Matrix as an ability, not D.Va as a hero.
She has been a ton of fun to play with these changes, and we're looking forward you letting you guys play with them as well. Hopefully we'll have a new PTR up soon!