WoW
Sep 29, 2017 10:00 am CT
Blizzard's surprising official stance on pineapple on pizza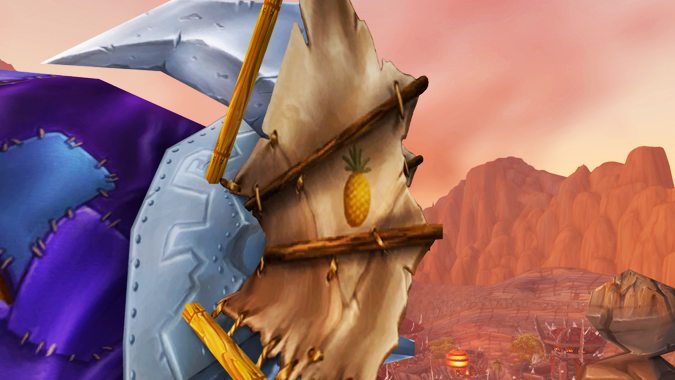 In a post about player feedback and reports, an astonishing announcement was hidden deep within the comments. Ythisens came into the thread to offer insight into reporting players in WoW, but he wasn't quite done there. The power of the blue text was too alluring for mere talk about player reports: it needed something more. Though he's been with Blizzard for a while, he was most recently added to the NA forum team as the newest Community Manager. If only Ornyx knew what he was creating when he welcomed Ythisens with open arms.
I don't know! It feels weird… wait…this blue text… feels nice… almost like it has some sort of power. A power that feels like I can declare official things…
Pineapple does not belong on pizza!
Yeah… that feels good.
Is this Blizzard's official stance? Or just the latest stance? Or maybe just the work of a renegade? Earlier this year, Celestalon came out in support of the opposite side.
You heard it here, @Khaldor has spoken, and he is RIGHT!

PINEAPPLE ON PIZZA!

— Celestalon (@Celestalon) May 6, 2017
It seems like there may be a bit of a rift at Blizzard headquarters with regards to the controversy of pineapple on pizza.
NO PINEAPPLE OMG YOU HEATHEN

— Criss Fowler (@aeridel) October 4, 2016
The controversy is so prevalent that it has even caused a flurry on RP servers.
Blizzard doesn't exactly have a wealth of pineapples in game. Goblins seem to be the most fond of the fruit, including it in their wallpaper and on their zeppelins. We also have several pineapple-related punches, refreshing, invigorating, and potent, as well as a pineapple cushion. But no pineapples on pizza. However, to be fair, this may only be due to the fact that there is no pizza in game.
I, for one, am in support of the pineapple on pizza faction. Don't worry, Celestalon, I got your back. Though only time will tell how the pineapple saga unfolds.