Adorable Shadow Fox plush now available to give you cute-fox eyes, take your money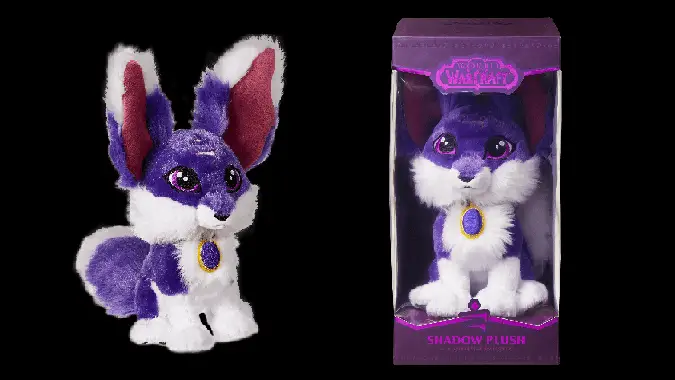 If you're like me, you made it out of BlizzCon 2017 happy that you still had a couple pennies left in your bank account. And if that's the case, maybe just go ahead and stop reading right now — Blizzard is about to get more of your money and there's nothing you can do about it. Granted, if you're reading this, you already know why: Shadow the Fox now has a plush available for purchase, and it's adorable.
The plush, much like the in-game pet, features a light-up rune on its forehead along with puppy-dog-level eyes that will steal your heart (and your money). Also like the in-game pet, the plush is part of a fundraising effort to help with disaster-relief efforts around the world. In this case, 60% of the proceeds through the end of 2017 will be donated:
Blizzard will donate to the American Red Cross and the International Federation of Red Cross and Red Crescent Societies $18.00 USD from every World of Warcraft Shadow Fox Plush ($30.00 USD) sold online between November 9, 2017 and December 31, 2017. Proceeds will be split equality between both organizations. This purchase is not tax deductible.
Blizzard is helping people affected by disasters big and small in the U.S. and around the world by making a gift to American Red Cross Disaster Relief and the International Federation of Red Cross and Red Crescent Society's Disaster Relief Fund.
Personally, buying one of these is not a matter of "if," but rather a matter of "when" — I mean, even if I weren't a Shadow Priest, this guy's hard to say no to. Given the plush can't change colors like the in-game pet, I'd say there might be some hope left for those of you only interested in the Light version of this pet… but if you're only interested in the Light, you're already a lost cause in my books.
If you're interested in the Shadow Fox plush, it'll run you $30.00 USD and can be ordered from the Blizzard Gear Store now. There's no limit on purchase quantity, though, so be prepared to add "just one more" to your cart if you love adorable fluffballs.