Firebat Blaze arrives alongside this week's Heroes of the Storm hero rotation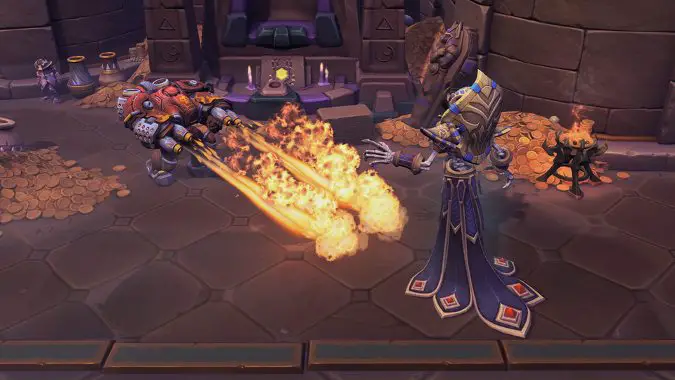 Blaze, the latest addition to Heroes of the Storm, enters the Nexus this week. Though the hype around his release hasn't exactly been soaring, he appears to be a solid tank character all around — and downright fun. Playing with fire is always a good time and his Bunker Drop ultimate will undoubtedly lead to some amazing highlights.
Today's patch will also include the Malfurion rework we saw on the PTR last week. In addition, and as usual, all of this arrives with the latest free hero rotation.
Free Hero Rotation
Raynor
Muradin
Sonya
Nazeebo
Uther
Jaina
Lunara
Tassadar
Xul
Lt. Morales
Kel'thuzad(Slot unlocked at Player Level 5)
Illidan (Slot unlocked at Player Level 10)
Tracer (Slot unlocked at Player Level 15)
Zeratul (Slot unlocked at Player Level 20)
Tassadar pairs well with some of the other free heroes this week such as Tracer and Illidan. They're both nimble, low-health heroes who deal their damage primarily through autoattacks. Tassadar's shields not only provide them with a health buffer preventing them from being blown up, but while they're shielded, their autoattacks heal them, too. Raynor and Sonya can also benefit from Tassadar's shields, but not quite to the degree Tracer and Illidan do.
On the flipside, with these combos in play, Kel'Thuzad is a sitting duck.
Hero Sales
Lúcio — Sale Price: 375 Gems
Raynor — Sale Price: 150 Gems
Featured Items
Hippityhop Ribbit Lúcio
Special Ordnance Raynor
Frost Xul
Renegade Master Sgt. Hammer
Grand Commandant Varian
Wild Demon Hunter Valeera
Big Top Gazlowe
Ancient Demonic Auriel
Turquoise Magic Carpet
Ivory Tyrael's Charger