New Hero Blaze shows off skills and skins in latest preview videos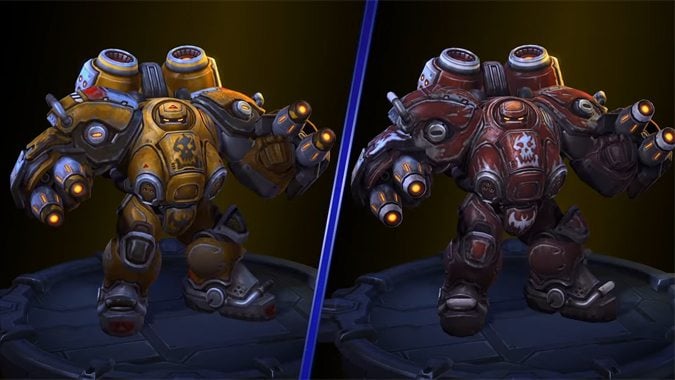 Blizzard closed out December with a new hero announcement for Heroes of the Storm: Blaze, a StarCraft Firebat unit. And for people waiting patiently for updates on just how Blaze is going to work, his Hero Spotlight just debuted with all the details. Miles "Blaze" Lewis was a member of Raynor's Raiders, where his penchant for pyromania went to good use. Blaze is a ranged tank who specializes in dealing area damage. His Trait, Pyromania, allows him to simultaneously gain armor and deal periodic damage to enemies.
Two of his abilities work hand-in-hand together: Oil Spill and Flame Stream. Flame Stream fires off a couple of flame jets that hit anything in their path. Each Flame Stream that successfully hits an enemy hero reduces the cooldown on Pyromania. Oil Spill throws some oil on the ground, slowing enemies that walk through it. But hey, oil is notoriously flammable, right? If Blaze casts Flame Stream on an Oil Spill, it catches on fire — making a pool of flame that damages enemies but heals Blaze.
Blaze's Heroic Abilities are pretty interesting too, but one in particular stands out. Bunker Drop causes Blaze to call down a bunker that both he and his teammates can use for a short period of protection. While in the bunker, heroes can use flamethrowers to shoot jets of flame and hit nearby enemies. The Bunker also has the added bonus of wiping any debuffs heroes might have upon entering it — and when they leave, heroes get a temporary armor boost.
All in all, it looks like Blaze is going to be an absolute terror on any map, capable of effective solo lane clearing while being a useful addition to any team — and he's live on the PTR right now.
But on top of the spotlight video, we have a new In Development video showing off his color variants and an impressive Fel Reaver Blaze skin. But hey, Blaze isn't the only thing featured in the video. As always, there are a variety of skins for other heroes in development as well.
It seems that mechas are the choice du jour for the latest round of updates. Rehgar, Abathur, Tyrael, and Dehaka have all been given a mechanical-themed overhaul. Tyrael looks like he's embraced his inner Transformer, Abathur manages to make canister-pistons look…gross, but it's Dehaka's transformation that wins this time, for me. There's also a variety of new sprays, portraits, and emotes as well — check them out in the video below.
It's been a while since we've seen a new StarCraft hero added to the mix — the last hero, Stukov, made his debut back in July of last year. After a veritable tidal wave of Warcraft and Overwatch heroes, I'm happy to see other Blizzard IP's get a little more love.