WoW
Jan 22, 2018 3:16 pm CT
Celebrate the opening of the Gates of Ahn'Qiraj with Call of the Scarab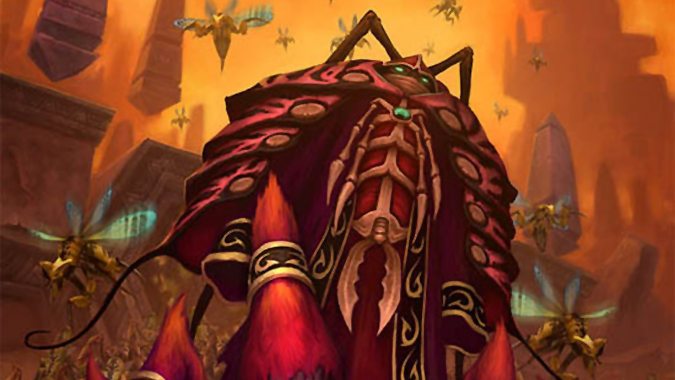 If you remember last year's Call of the Scarab, or even if you don't, it's back this year. That's right, it's time to celebrate the anniversary of 2006's Gates of Ahn'Qiraj event where players rang the gong and triggered a ten hour battle against the Silithid and Qiraji forces of C'Thun. The Call of the Scarab micro-holiday commemorates the event by basically letting you relive a part of it: that means going to Silithus to gather resources and do world quests. New this year are a pair of event-only mounts with a Red Qiraji War Tank for Horde and a Blue Qiraji War Tank for Alliance.
So what are you waiting for? Get started by heading out to Silithus.
Once you're there, you can grind up commendations for your faction of choice. The faction that ends the day with the most commendations gets to see their banner fly over the gong for the next year — 2017's winner was the Horde. But you can change that or continue it if your faction gathers enough commendations. You do this by turning in meat to the Alliance or Horde representatives in the zone, which will fill you with a nostalgic longing (or perhaps dread) if you were there back in 2006 and remember doing this. You can also go kill Ossirian the Unscarred, C'Thun, and the original three world mobs from the old AQ gates event — the Colossus of Ashi, the Colossus of Regal, and the Colossus of Zora, who hadn't been seen in WoW since last year's event (and before that, the original 2006 event). Unlike C'thun and Ossirian, who are their original level 60 selves inside their raids, these three scale up to 110, and it will likely take a group to bring them down. You can even go do the Lesser Wind Stones again in Twilight encampments, which are also scaled up to 110. Wowhead's guide to the holiday has more details if you need them.
If you've completed Antorus and have a completely different Silithus don't fret: you can talk to a friendly Bronze Dragon, Rhonormu, to get phased to an earlier version of the zone to work on the quests.
It's like a chunk of 2006 broke off and got wedged in Legion for you to explore, and it lasts until January 23, the anniversary of the original. So head down to Silithus now and get to work.