Maiev and Lunar Festival arrive alongside this week's Heroes rotation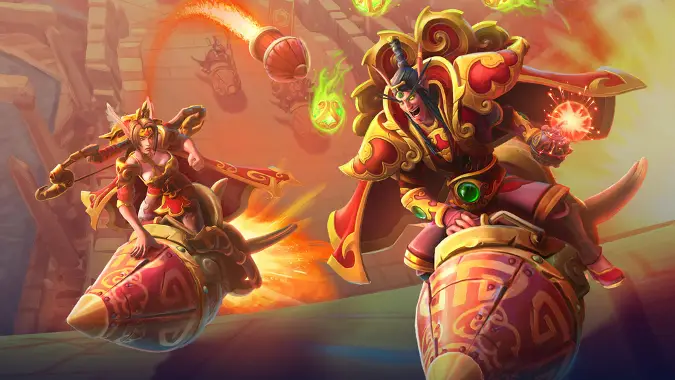 Today's likely to be a big one in Heroes of the Storm. Assuming all goes well, Maiev will be making her way onto live realms with all of her mobility-punishing, assassiny goodness. I, for one, am pretty excited about it. Maiev has always been one of my favorite characters from Warcraft 3 and her Heroes of the Storm incarnation seems pretty amazing. If nothing else, her talents are chock full of great Warcraft 3 references such as Naisha's Memento which allows Maiev's basic attacks to cleave.
In addition to Maiev, Lunar Festival will begin in Heroes of the Storm today and run until March 5. Lunar Festival comes with the usual suite of cosmetics, as well as new skins for Kael'thas and Sylvanas. While the event also includes a new Brawl, we're not entirely sure when the Brawl will go live. Typically, the Brawl doesn't rotate until slightly later in the week, so we might not see it until Thursday or Friday at the earliest.
We also have a new hero rotation this week, of course. Nova is on the rotation this week, so hide your mages — or at least cover their butts so they don't get sniped off the face of the earth. Valla is both on this week's free rotation and on sale this week for 150 gems; I wouldn't recommend spending the gems on her. She's a fantastic hero, but she's already one of the cheapest heroes at 2,000 gold. Save your gems for something a little more valuable.
Free Hero Rotation
Malfurion
Valla
Gazlowe
Johanna
Thrall
Dehaka
Diablo
Ragnaros
Lúcio
Kerrigan
Kharazim (Slot unlocked at Player Level 5)
Falstad (Slot unlocked at Player Level 10)
Rexxar (Slot unlocked at Player Level 15)
Nova (Slot unlocked at Player Level 20)
Hero Sales
Valla — 150 Gems
Brightwing — 312 Gems
Featured Items
Vengeance Valla
Onyx Fey Dragon Brightwing
Platinum Malthael
God-King Leoric
Neon Spectre Nova
Cyberhawk Kael'thas
Sapphire Striker Li-Ming
Dreadlord Jaina
Crimson War Bear
Royal Armored War Steed