Zenyatta walks and Mercy reaps in Overwatch League's best running gag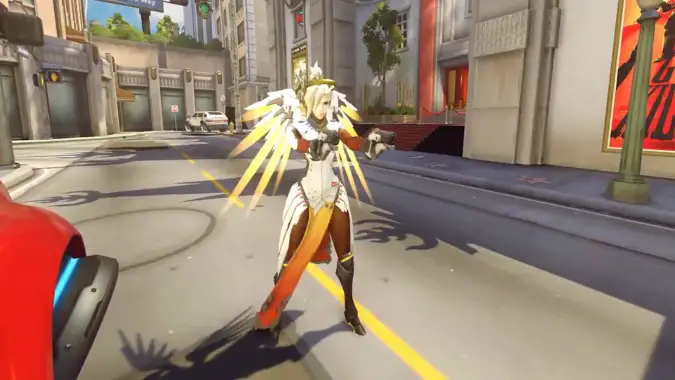 Some of the best content coming out of the Overwatch League is the Overwatch development team's interactions with fans. In early February, the developers spotted a sign in the Overwatch League live audience asking for Torbjorn to get the ability to wallrun — and Overwatch Senior Animator Jesse Davis delivered.
K. @overwatchleague pic.twitter.com/48Kl17xIDK

— Overwatch (@PlayOverwatch) February 3, 2018
Obviously, there wasn't significant time sunk into this — it's clearly Torbjorn's model using Genji's animations, considering the disembodied sword hovering under Torbjorn's feet. Still, when this first surfaced, the community was absolutely tickled the developers were willing to play along.
Little did we know, it would become one of the Overwatch League's best running gags. Later in February, the league's live audience had a new request: let Zenyatta walk.
K. @overwatchleague pic.twitter.com/rVHb6gkFmF

— Overwatch (@PlayOverwatch) February 23, 2018
The result is actually quite horrifying, yet perfectly in line with certain Overwatch parody videos, and surely the inspiration for many more. Personally, I can't help but hear Tiny Tim's Livin' in the Sunlight while watching the clip.
And if you think that's the end of it, you're sorely mistaken. Just earlier this week, the Overwatch developers fulfilled a new quest: give Mercy two guns.
K. @overwatchleague pic.twitter.com/8wRI1Xc84F

— Overwatch (@PlayOverwatch) March 8, 2018
I particularly love this one, because even though it isn't as silly as the other two, it's totally badass. Mercy with Reaper's animation is like the Terminator. She's the doctor of your nightmares. Mercy's gotten sick of trying to heal you dweebs. Instead, she's going to find you, and she is going to kill you. And she won't even care. She's done caring.
While this running gag surely can't last forever, we should cherish it while we have it. It isn't often developers are willing to do something so silly for the fans of their game