Heroes of the Storm hotfixes and nerfs problematic Sonya talent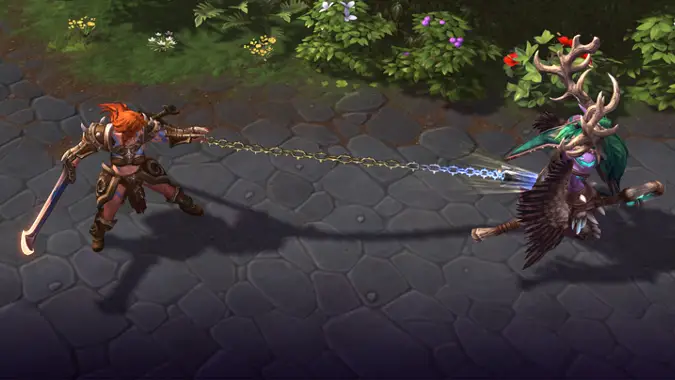 The rework to Sonya in Heroes of the Storm landed last week, but was plagued by one major bug: Sonya's Tough as Nails talent could, under certain circumstances, grant her a permanent 75 Armor — or 75% damage reduction. The Armor buff is supposed to be based on charges: every 12 seconds, Sonya earned one charge of the Armor buff. Being attacked removes a charge. However, when Sonya was attacked by beam abilities — such as Tassadar's autoattack — rather than removing a charge, the buff became permanent.
This bug with Tough as Nails has been hotfixed, and along with the bug fix, the talent has been nerfed overall. Tough as Nails now provides less armor and it takes longer to refresh.
Warrior
Sonya
Talents
Level 1

Tough as Nails (Passive)

No longer immediately grants 3 Physical Armor stacks upon learning the Talent.
Physical Armor granted per stack reduced from 75 to 60.
Charge cooldown increased from 12 to 16 seconds.
Bug Fixes
General
Voice Chat: Fixed a backend issue affecting the Voice Chat service.
Heroes, Abilities, and Talents
Medivh: Fixed an issue that prevented the Arcane Explosion Talent from dealing bonus damage if Force of Will had been cast on an allied Hero.
Sonya: Being hit by beam Basic Attacks, such as Tassadar's Distortion Beam, after learning the Tough as Nails Talent will no longer grant Sonya permanent Physical Armor.
While it's strange they'd nerf a talent when it's been bugged — the bug could have skewed data on its performance — the nerf isn't totally unexpected. Before Sonya's rework, she had a generic Block talent at level 1. Though it was rather boring, it was her most effective choice by far. Her previous Block talent provided only 50 armor, so even Tough as Nails at 60 Armor is still an improvement over what was already her best level 1 talent choice.
This rework has only been live for roughly a week, so it seems likely we'll see more tuning changes to Sonya in the weeks to come — and very likely Medivh, too.