Jetpack Cat unleashes rage on the vacuums that took his human in unofficial origin story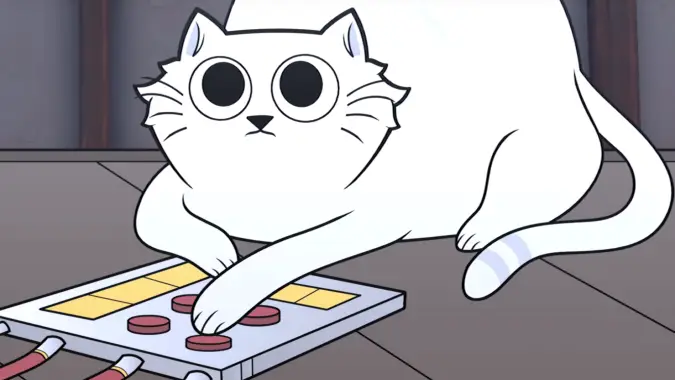 Brigitte — Overwatch's newest hero — has already had a big impact on the community at large and generally seems to be a fast fan favorite. But as much as I may love Brigitte, I can't deny the fact that I had my heart set on Jetpack Cat as Hero 27. For the unaware, Jetpack Cat was mentioned about a year in an interview with Jeff from the Overwatch team:
Then there was this one hero that was a huge internal debate on the team because we just loved it so much but it didn't make it. It was this jetpack and it had this cat that laid in it, like a cat does. Then every once in awhile it would paw at the controls. It was a cat in a jetpack.

That was one of those moments that helped define Overwatch. We just went, 'Yeah that's probably too far.' But yes. We had a cat hero.
Despite this insistence, Michael Chu — who was not on the team during the original Jetpack Cat discussions — reignited some flames shortly after when he said, "I've been thinking Torbjörn has a particularly interesting cat, and who knows what stuff Torbjörn has lying around" during a Reddit AMA. All of this came to a head when the Overwatch team began teasing Hero 27 — and included several images with a cat (or its paw) alongside mechanical schematics. Sadly, Jetpack Cat still yet remains an enigma… at least in terms of the official lore.
Thanks to the "To Binge" YouTube channel, we can not only imagine what sort of terror Jetpack Cat would rain on the Omnics (or "vacuums" as he calls them), we can also imagine what sort of origin story he would have. This home-brewed Jetpack Cat origin story is less than two minutes long, and it's pretty adorable. But because I don't want to spoil it for you, I'll just share it here and judge you if you choose not to actually watch.
I'm honestly not sure what I like most about the video. Jetpack Cat himself is as cute as ever, especially when he goes all "sad cat eyes" on us. Plus, the terms he applies to Brigitte's two biggest influences — Grandad and Garden Gnome — are just perfect. Oh, and I haven't even gotten to the terrifying death glare he gives at the end as he unloads far beyond the necessary amount of rounds into the enemy vacuum. Pure gold.
Do you have your own origin story for Jetpack Cat? Do you — like me — still cling to the hope that Jetpack Cat may one day grace us with his presence in-game for real? Don't ever let the dream die, folks. Oh, and if you want to check out more cartoons, the To Binge channel has plenty more!