Is Overwatch's new hero Brigitte or….Jetpack Cat?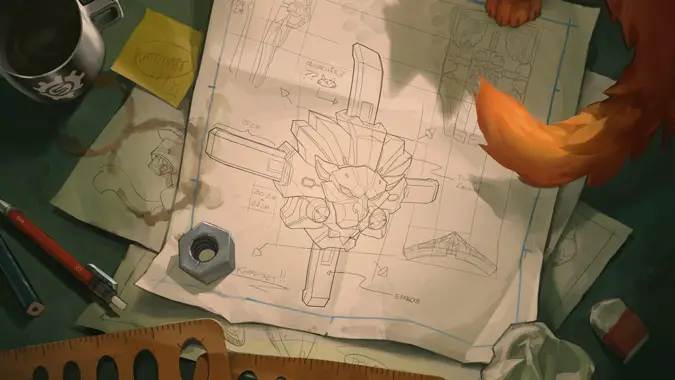 Speculation has run absolutely rampant in regards to Overwatch's mysterious Hero 27 over the last few days. Blizzard has been throwing out a variety of teasers both on the official site and Twitter. There are a lot of people — including myself — who are convinced we'll be seeing Torbjorn's daughter Brigitte following his footsteps and joining the ranks. But today's teaser adds another twist to all that speculation, suggesting…a cat with a jetpack?
Yeah, you heard me.
"Last minute check! Everyone squared away?" pic.twitter.com/67cBBvIgzs

— Overwatch (@PlayOverwatch) February 27, 2018
Clearly pictured, although obscured by coffee rings, is an image of some kind of mechanical device with…a tail. Not to mention the cat in the upper right-hand corner, who also made a cameo in yesterday's Twitter tease. Despite this, the speculation is still leaning heavily in favor of Brigitte, for several reasons.  A deleted tweet from the Japanese Overwatch Twitter pointed to a path file named "Brigitte Teaser #3." Tulio517 noted on Reddit that the metadata for one of the images on the lore post on Overwatch's Brazilian site also has a Brigitte reference. Honestly, she makes the most sense here. She's Torbjorn's daughter, she's Reinhardt's constant companion — why wouldn't she join Overwatch? We should also look at that Reinhardt animated short from BlizzCon. Reinhardt's been around for a while now. His comic, Dragon Slayer, was the second one released. So why did Reinhardt get an animated short?
Was it to highlight Eichenwalde? Maybe a little, but we had the Bastion animated short released at that point in time. So why double down on the Eichenwalde lore? Why now? I don't think that animated short was for Reinhardt. I think it was for Brigitte. In telling his story, Reinhardt was also telling Brigitte why he had to return to Overwatch, why it was important. And at the end of the animated short, Brigitte was left with a choice of her own — she'd been following Reinhardt for who knows how long. Was she just going to leave and let him re-join Overwatch, or was she going to follow in his footsteps? I feel like we're about to get our answer.
At the same time, the image from today's tweet poses a wrinkle to that entire theory. Resident writer Mitch pointed out that Overwatch lead writer Michael Chu mentioned the potential of Torbjorn's cat in a Reddit AMA from last May. So was this all Brigitte teasing just a front for the real hero — a cat with a jetpack? I don't think so — but I'm beginning to wonder if Brigitte will hit the field with a well-armored furry four-footed companion in tow. In the tweet today, the sketches of the lion emblem seem to be a clear reference to Reinhardt's armor. And we've yet to see any kind of real pet-class hero among Overwatch's ranks. Maybe Brigitte — or her father — engineered a buddy to help out while she's under fire. We'll have to wait and see to find out — but if the teases keep coming this quickly, it's likely we won't be waiting very long.