WoW
Apr 11, 2018 4:00 pm CT
Why aren't these mounts really in Warcraft?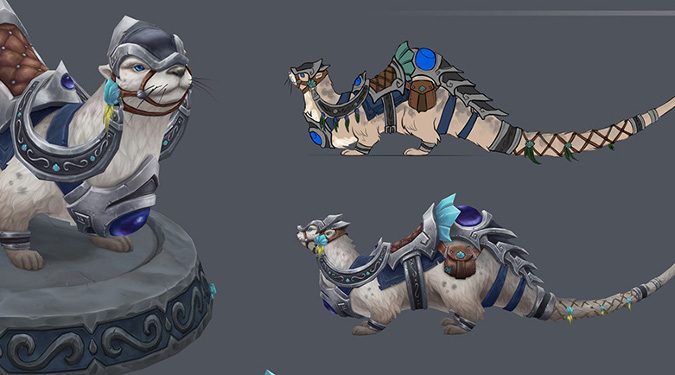 Lately, there's been a host of mount concepts that aren't getting turned into mounts in Battle for Azeroth — but they should be. This needs to be addressed. No, no, this is not something we're going to let pass unchallenged. Not on my watch. This year's Blizzard Student Art Contest saw the Character Art winner, Natacha Nielsen of the Laguna College of Art & Design, provide us with this magnificent Frostwhisker Otter mount.
Blizzard, I don't care if you have to invent a tribe of Canadian Snow Gnomes to get this mount into the game, you do it and you do it now. Not tomorrow, not in a week. I want to see this thing bounding across Winterspring by tonight or I'm going to be extremely sad. You don't want me to be sad, do you?
Who am I kidding, you made me farm for my shoulders for years, you love it when I'm sad.
But besides Natacha's excellent otter mount, Blizzard themselves have taken to trolling us with mounts that should exist, but don't, because they were April Fool's jokes. Why were these jokes, Blizzard? Why didn't you immediately reveal these weren't jokes?
Bork into battle with Rex the Lapwarmer, a very good boy coming with #BattleForAzeroth. Belly rubs optional. pic.twitter.com/gmiUBcSnTR

— World of Warcraft (@Warcraft) April 1, 2018
Look at this guy. Tell me you wouldn't ride this guy into battle scratching him behind his ear and telling him what a good boy he is. I'm dead inside, I'm a crotchety old curmudgeon — but even I think that is genuinely adorable. Even if we don't get this as a mount, Blizzard, sell that armor to us. I would dress my dog up in that pretty much every chance I got, Blizzard.
This mount is for the birds! 🐔

Introducing King Cluckcluck, one of the new realistic mounts coming in #BattleForAzeroth. pic.twitter.com/RwtAukMvxn

— World of Warcraft (@Warcraft) April 1, 2018
I raised chickens as a kid. They're no joke. King Cluckcluck should be a 40-man world boss you have to beat who drops a mount version of himself and let me tell you, if you get him after six wipes you're lucky. Chickens are mean. This should definitely be a mount, we already have a chicken mount. Just give us this one too.
Hop into battle with Sir Buster Fluffybottom, the first of three new realistic mounts coming in #BattleForAzeroth. 🐇 pic.twitter.com/4gcXZS3Axr

— World of Warcraft (@Warcraft) April 1, 2018
I want this. I want this in my actual house, never mind WoW. But I want it in WoW too.
So seriously, Blizzard, get to work. We demand cute mounts. And think of all the toys you could sell of these guys! The plush editions of all three of these would be ideal for gifts.