Hearthstone addresses Shudderwock problems by doubling its animation speed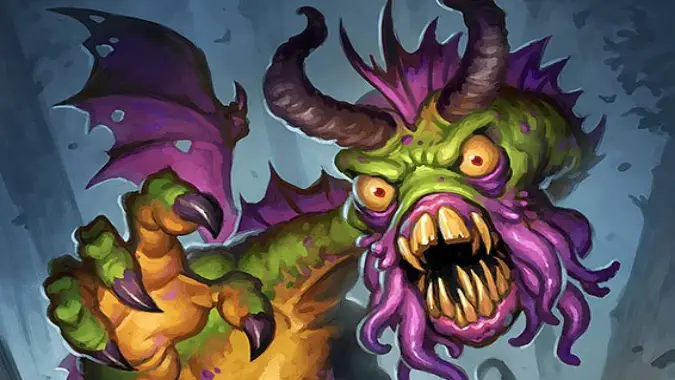 Update: This fix is now live in the game!
The Witchwood expansion hasn't been live for long, but one card has proven to be a thorn in players' sides. While players didn't expect much from the card prior to launch, Shaman legendary Shudderwock is wreaking havoc on the ladder, but not necessarily due to the card's own power. Shudderwock repeats all Battlecry effects you've played that game. It's situationally powerful, yes — but more powerful is the lengthy animation time. Applying all of the accumulated Battlecry effects can take, in an extreme case, a solid ten minutes to play all of the animations. At critical mass of Battlecries, it's an abuse of game mechanics, encouraging your opponent to Concede rather than waste their time.
This isn't the first time we've seen a "strategy" like this come into play. Nozdormu, for example, was often used in this way. Nozdormu shortened the duration of the turn timer. If you played a card with numerous effects that took a long time to resolve, your turn timer would expire. By the time your opponent has seen all of the effects activate, their turn timer has expired without allowing them to make a move.
Essentially, cards such as Shudderwock are powerful because, under the right circumstances, they take advantage of how the game engine works rather than being powerful in their own right. In combination with Grumble, Shudderwock can even be played multiple times. If played correctly, a Shaman can drag out a game for an extra 15-20 minutes. And note, once Grumble has returned Shudderwock to your hand, that's even more Battlecry effects Shudderwock needs to replicate the next time you play him.
Luckily, Blizzard just rolled out a fix for Shudderwock, along with a few other bug fixes.
Doubled the speed of Shudderwock's Battlecry animation.
Shudderwock now reproduces a maximum of 20 Battlecries.
Shudderwock undoubtedly needs this change, but it's curious that the card made it live as it is. This isn't the first time lengthy animations have been a nuisance. Even as recently as the Un'goro expansion, Disguised Toast discovered an exploit with Shadow Visions that caused the exact same behavior.
Shadow Visions was fixed, and players gained the ability to skip or wait out the animations without losing their turn, but clearly this problem has not been resolved as a whole if it continues to recur with new sets.