Pink Mercy has already inspired cosplay and fan art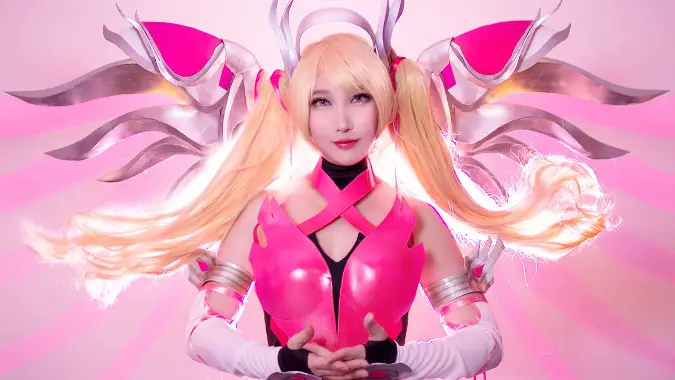 Blizzard Entertainment released the Pink Mercy skin in Overwatch earlier this month. Not only is it for a good cause — all proceeds going to support the Breast Cancer Research Foundation — but it has inspired the Overwatch community's creativity in a big way. While the game's community has always possessed a wealth of creativity, the reaction to Pink Mercy is impressive even by the lofty standards we've come to expect. Within mere days of the skin's initial announcement, cosplayer RinnieRiot tweeted the first picture of her new Pink Mercy costume:
✨Pink Mercy from #Overwatch Cosplay ✨
I love what you're doing Overwatch 💕#overwatch #mercy #pinkmercy #pinkmercycosplay @PlayOverwatch @Blizzard_Ent pic.twitter.com/n5fbpLjQkZ

— Rinnie (@OfficialRinnieR) May 12, 2018
Within one day of the skin's release, community artist MK/RET completed their Pink Mercy fan art in tribute to their mother who was recently diagnosed with breast cancer. MK/RET has made the speed paint video available on YouTube.
And there's truly no shortage of amazing Pink Mercy fanart.
Had two family members fighting breastcancer, so this means a lot to me.
Thank you @PlayOverwatch for supporting the cause!💜

"Dein Schutzengel ist da." -Mercy 🌸
I think she makes a very cute and fitting Guardian Angel.#BCRFcure #PinkMercy #Overwatch pic.twitter.com/s6cUiz1ChO

— Kirshi (@KirshiVanilla) May 9, 2018
Ah, I had to drop everything and draw Pink Mercy… I'm grateful for her #PinkMercy @PlayOverwatch pic.twitter.com/F1jE2aY0d7

— rose 🌸 (@jaakotodile) May 12, 2018
The most magical skin ever! ✨😍 #BCRFcure #PinkMercy #Overwatch #OverwatchFanart pic.twitter.com/1hZqB3tuql

— ✨Ravee✨ (@raveeoftitanz) May 11, 2018
Personally, I'm quite enamored with this artist's vision of Pink skins for other Overwatch heroes:
I'm so hyped about the new Mercy skin, I decided I would do some pink designs for other heroes. So far I've got Ana, Pharah, Hanzo and Symmetra. Who else would you want me to draw with a pink skin?#ovewatch #pinkmercy #pinkskin #pink pic.twitter.com/ApmQCv7iMA

— 🌸 𝔻𝕠𝕦𝕓𝕝𝕖 𝕄𝕠𝕠𝕟𝕓𝕠𝕨 🌸 (@double_moonbow) May 10, 2018
Mercy, being a doctor, is the natural recipient of a breast cancer awareness skin. However, these variants for other heroes are adorable, too — and I honestly love Hanzo's outfit.
And, naturally, we have a soft spot for Overwatch 'shipping, because who doesn't? As silly as 'shipping can often be, there's no purer expression of fandom.
It's not like you're appreciating or anything… baka. lol
( I'm sorry but #pinkmercy give me anime magical girls vibes so much … )#moircy #moicy #overwatchfanart #moiraodeorain pic.twitter.com/w6lpLDjFlR

— Afterlaughs / Elisa Romboli – ATCT #1 out NOV 3 (@afterlaughs) May 10, 2018
https://grimgripe.tumblr.com/post/173938261912/i-did-a-gift-art-for-a-friend-its-pharmercy
Some artists have taken this opportunity to blend two events together. In the month of May, artists around the world participate in the unofficial "MerMay" event. It isn't something exclusive to Overwatch in any way; it's just an excuse for artists to draw, paint, or generally create mermaids, just for fun, and sometimes they blend their fandoms into the Mermay festivities. Such is the case with this Pink Mercy mermaid:
This cause is something that's important to me, so if you are interested in the cause or the Pink #Mercy skin, please consider donating to #BCRF! 🎀 #PinkMercy #MerMay #Overwatch @PlayOverwatch pic.twitter.com/dzhEUV2cWo

— ♕ valkyrique (@valkyrique) May 11, 2018
And if traditional art forms don't float your boat, how about some incredible nail art?
I love that Blizzard is raising awareness of such an important topic! Also, how amazing does this skin look? 💕Of course, I had to paint it on my nails! :)@PlayOverwatch #nailart #pinkmercy #overwatch pic.twitter.com/FEyTimTNzp

— nagelfuchs (@nagelfuchs_) May 10, 2018
Pixel art, perhaps?
Well it's not perfect but here's a quick edit of Mercy's pixel spray in celebration of her new really cute skin in case anyone wants it~ #PinkMercy pic.twitter.com/P4wuWK4YeY

— Ayaer 🏳️‍🌈 (@Rieldify) May 9, 2018
Are memes art?
IM SCREAMING 😂😂😂 #overwatch #pinkmercy pic.twitter.com/noJxLJMbLe

— Lori Lynn (@misspiratesavvy) May 10, 2018
Remember, if you want the Pink Mercy skin for yourself, it's only available until May 21 — which is less than a week away. The skin is available for purchase for $15 USD, with all proceeds going to the BCRF. There's also a Pink Mercy t-shirt available for $30, of which $15 will be donated to the BCRF. Alternatively, you could donate to the BCRF directly.
What other Pink Mercy fanart have you seen? Share them in the comments below and show their artists some love!