How would you change the Blizzard Launcher?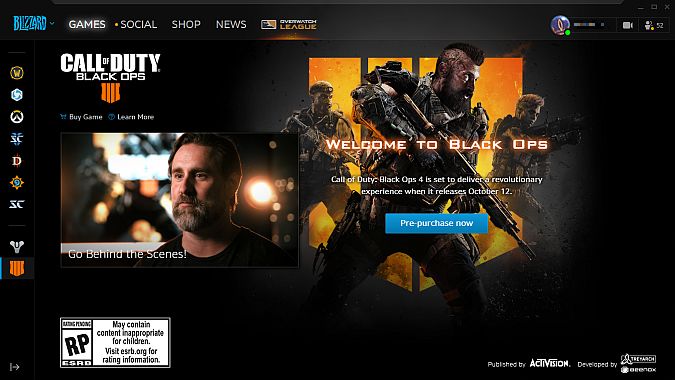 Yesterday, Treyarch announced that their upcoming Call of Duty: Black Ops 4 was going to be available on PCs exclusively via Blizzard Battle.net. Shortly thereafter, an icon and preview screen for Black Ops 4 appeared on the Blizzard Launcher. It's a move that follows in the footsteps of Destiny 2, which was also added to the launcher last year. It's also not an altogether surprising move — Activision is the parent company of both Destiny 2 and Black Ops 4.
But just because it's not surprising doesn't mean people don't have — ahem — opinions on the matter. In my (admittedly limited) social-media circle, I think the best I saw was indifference, while the worst I saw were people genuinely upset at another game appearing on the launcher. However, even the people who were indifferent still took the opportunity to point out they wouldn't mind being able to hide games if they want.
Frankly, I agree with them — mostly because I'm under the assumption that Activision-Blizzard intends to compete with other game-launching hubs such as Steam or, um, Origin I guess. But if that's the route Activision-Blizzard ends up taking, hiding might not be good enough. It makes sense in my mind for a new tab or window or what have you to separate Blizzard games from non-Blizzard games.
That's just one approach to separating games, though, and it's only one type of change. While I don't really have major complaints about the launcher, if we're discussing changes, I do have one I want to see happen. For the love of god, Blizzard, stop telling me I have unread messages when they're all messages I've seen! Good Yogg, that "Social" tab is frustrating.
Wait, what was I talking about? Oh, right. Launcher changes.
Anyhow, I'd also love to see a way to organize my friends list into groups besides just "Favorites" and "everyone else." That and the Social-tab changes are really my big two. What about you guys? If you could change the Blizzard Launcher in any way you want, what would you change? Would you add things? Remove things? Blow the whole thing up and start over? Let me know below!