Support your favorite luchadora as Nexomania arrives in Heroes of the Storm
Click here for more photos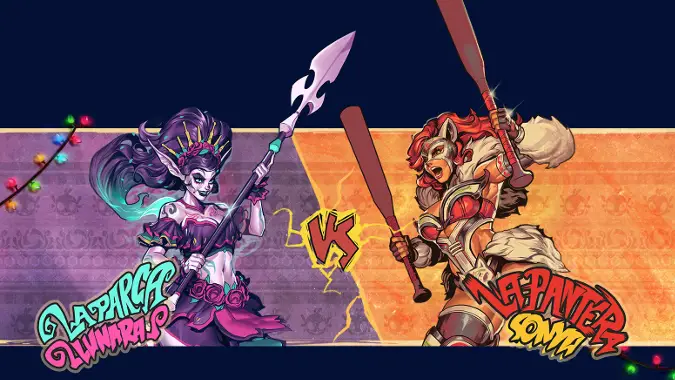 Nexomania, Heroes of the Storm's Lucha Libre-themed summer event, kicks off this afternoon and will run through June 11. Nexomania loot boxes will include a spread of brand new lucha swag, including skins, mounts, sprays, and the usual cosmetic offerings. It's taking the place of last year's Sun's Out, Guns Out event, and as such, Sun's Out items will be found in Nexomania loot boxes, too.
The quest associated with this year's event comes with a twist, however. Nexomania's main event is a showdown between luchadoras La Parca Lunara and La Pantera Sonya. At the start of the event, you need to decide which luchadora you support — and you'll only receive her rewards.
La Parca Lunara

La Pantera Sonya

Both Sonya and Lunara's quests can be completed in Quick Match, Versus A.I., Unranked, or Ranked games. Remember, however, that you can only choose one set of rewards. If that La Pantera Sonya portrait is up your alley, make sure you choose Sonya! The other set of rewards will be completely unavailable to you until next year, when the prizes enter the next summer event's loot chests.
Whichever luchadora you support, everyone who completes either quest will receive the El Guapo announcer — and regardless of what region you play in, El Guapo will commentate your matches exclusively in Spanish. Not only is it thematically appropriate given the Lucha Libre theme of this event, but El Guapo speaking in any other language would just be wrong. El Guapo is voiced by Arturo "Rudo" Rivera, an actual Lucha Libra AAA commentator and a legend within the world of professional wrestling. Localizing El Guapo into any other language would destroy what makes El Guapo so special.
If you're not sure which luchadora is for you, reddit has some sound arguments.
why you pick SONYA instead of STUPID HORSE from heroesofthestorm
Hard to disagree, honestly.
Check out our gallery to see all of the new skins in this event, head over to the official Nexomania landing page to check out all of the other new cosmetics, or read through the patch notes. See you in the ring, heroes!