WoW
Jun 8, 2018 7:00 am CT
The Perky Pugs' 24-hour Violet Spellwing giveaway runs start tonight!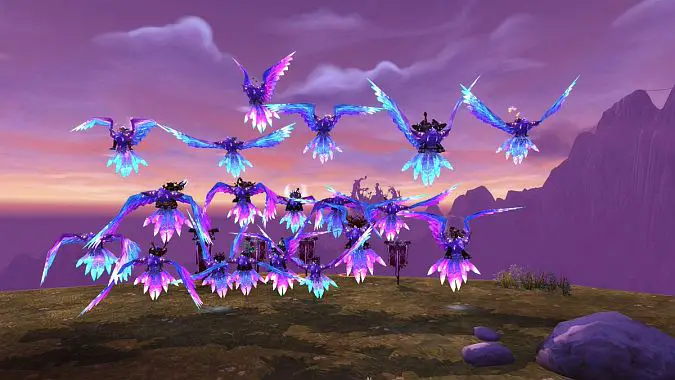 As we near the end of Legion, there are a small handful of goals to complete before they disappear with the launch of Battle for Azeroth (…or the 8.0 pre-patch, it's not entirely clear). One of these is obtaining Ahead of the Curve for Antorus and subsequently earning the Violet Spellwing mount. Even though it technically hasn't been confirmed to be disappearing in Battle for Azeroth, it seems likely given the history of AotC-related mounts.
Thankfully, if you haven't been able to earn the mount yet for one reason or another, the Perky Pugs are here to help! Perky Pugs is a cross-realm raiding community that spans across both factions, and they've decided to do a 24-hour marathon of carrying players through Heroic Argus and earning them the mount in the process.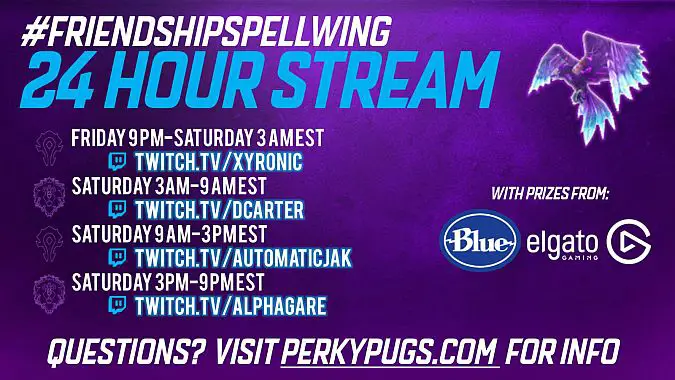 Of course, there are a couple things to note here. For starters, Perky Pugs is a North American/Oceanic community — sorry, non-NA players, you won't be able to partake in these runs. Second, Horde and Alliance runs are occurring at alternating 6-hour time slots. The first Horde run will be from 9:00 p.m. Eastern Friday (tonight) until 3:00 a.m. Saturday morning, while the second will begin at 9:00 a.m. on Saturday morning (tomorrow) and last until 3:00 p.m. on Saturday. In between these runs, the Alliance runs will be taking place.
However, even if you're not interested in a Violet Spellwing, there are still reasons to watch the Perky Pugs' streams. During the 24-hour period, Perky Pugs will be doing giveaways from Blue Microphones and Elgato Gaming. Better yet, they'll be taking donations and selling Perky Pugs merchandise, all proceeds of which go to The Trevor Project in honor of Pride Month. (And don't forget the Running of the Trolls on Saturday, also benefiting the Trevor Project.)
If any of this sounds like something you'd be interested in, be sure to check out the official Reddit page detailing everything in full. And if you decide to partake in the runs, make sure to check out the "How This Works" graphic — there are a couple instructions especially worth noting ahead of time. Good luck, everyone! And a big thanks to Perky Pugs for helping out the community and supporting The Trevor Project all at once!