Overwatch League season one All-Stars named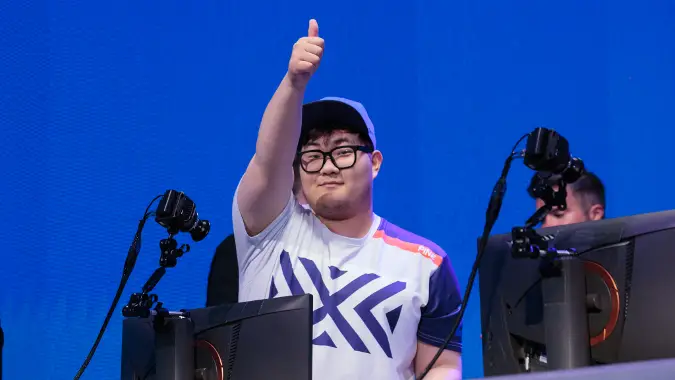 The fans voted, and the rosters for the first Overwatch League All-Star teams are here. There are a few surprises in both Atlantic and Pacific. Though we'd expect fan favorites like Geguri and Pine to get a nod, the overall picture looks a little grim for both teams.
In the Atlantic region, it's looking a bit blue. While the dominance of the New York Excelsior overall would lend itself to a few All-Star pics, four of the six slots on Atlantic are taken up by NYXL. The duo of Ark and Jjonak have both support roles on lock. Pine is holding down the hitscan dps role — he shines on Widowmaker and McCree, while Saebyeolbe is known for being a Tracer main. They're joined by Carpe from the Philadelphia Fusion, who also specializes as Widowmaker. Lastly is Gesture, who plays main tank for the London Spitfire.
Pacific has two tanks in their lineup, and they should work together well. The "handsomest player in Overwatch League" Fissure is a main tank for the Gladiators, while Geguri plays the flex tank role for the legendarily winless Shanghai Dragons. Pacific has a superstar sniper of their own with the Seoul Dynasty's Fleta. Custa plays mostly Mercy and Lucio for the L. A. Valiant. Ryujehong used to play Zenyatta — but he was making some kinda off-the-wall hero picks of late during his games with the Dynasty, and is listed as an official flex player. Rounding things out is Seagull, who plays mostly projectile heroes — Pharah and Hanzo — for the Dallas Fuel.
The biggest issue facing Atlantic right now is balance. Based on role, Pacific has a team to go the distance while Atlantic is packed with superstar snipers. However, this won't be the case for long. There will be an additional twelve extra players added to each team to round out the rosters, handpicked by a number of official sources. The 24 additions will be announced sometime in July, well before All-Star weekend beginning August 25.
Although I'm glad for all the players selected, perhaps the most interesting feature of the announcement is the hint of custom map types and skill showcases. I doubt that we'll see a full twelve man Widowmaker deathmatch featuring every team's star sniper, but sometimes a girl's just gotta dream.