Check out the Nerf version of Reaper's Hellfire Shotgun, coming in 2019
Updated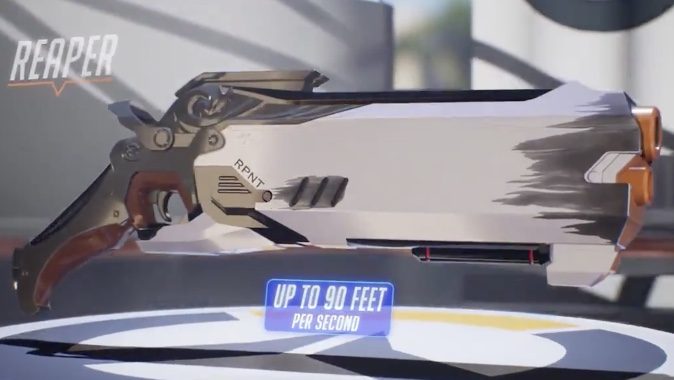 Update: We have our first look at the Nerf version of Reaper's Hellfire Shotgun and it looks awesome.
Ready for combat operations.

Add Reaper's #NerfRival Hellfire Shotgun to your arsenal in 2019. pic.twitter.com/HZxYegdxqK

— Overwatch (@PlayOverwatch) July 20, 2018
In addition to an Overwatch LEGO partnership announced earlier this year, Overwatch announced another toy tie-in that shouldn't be overshadowed: Overwatch-themed Nerf guns will be releasing sometime in 2019.
A new way to play.

Get your hands on Overwatch-themed #NerfRival blasters – coming soon! pic.twitter.com/93FZteQabX

— Overwatch (@PlayOverwatch) May 16, 2018
The older individuals in our audience probably associate Nerf guns with foam darts, but these Overwatch-themed toys will be part of the Nerf Rival line, which fires li'l foam balls, instead. The Nerf Rival line already includes a few other media tie-ins such as the Deadpool-themed Apollo XV-700 which might give us a hint of what to expect with the Overwatch merchandise.
Nerf Rival takes itself a little more seriously than the rest of Nerf's offerings,  with the Rival line attempting to be a safer alternative to paintball or airsoft for a younger audience. Hasbro even offers color-coded ammo refills intended to promote structured team-based competition. While it seemed likely that we would see thematic skins applied to existing models in the Nerf Rival line, much like that Deadpool Apollo, which is a thematic paintjob applied to a core product, the Hellfire Shotgun is an original model — and a good match for Reaper's in-game weaponry.
But even if the other models aren't quite as extreme redesigns, the Kronos pistol would still look pretty good themed pink for D.Va, and the Nerf Rival facemasks are begging for a Soldier 76 overhaul. Even if Hasbro doesn't give us such things, they're a great baseline to modify for cosplay, for example. In fact, some Overwatch fans have already used Nerf guns for this purpose:
These are due out some time in 2019, but we still don't have an exact launch date. But it looks like these new Nerf guns will be worth waiting for.