WoW
Sep 19, 2018 2:00 pm CT
Uldir raid boss soloed by a Paladin with a very bad infection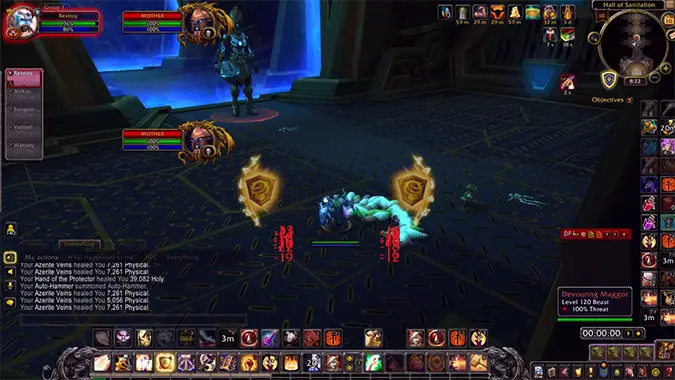 Protection Paladin Rextroy posted a video recently where they managed to solo Mother in Uldir just months into the expansion, and the way they did it was both a clever use of mechanics and also very gross.
You can see it all in action with Rextroy's video. There's no cheating at work, just a really clever and probably very unintended use of game mechanics. You're out of luck if you're interested in doing this yourself though because Blizzard has already hotfixed one of the central mechanics to winning the fight.
Rextroy posted a breakdown of how this whole weird strategy works. Essentially, Rextroy did the unthinkable to get the most out of Last Defender, which is a talent that reduces damage based on all enemies surrounding you and increases your own damage dealt. Mother doesn't have any additional enemies though, so Rextroy brought some.
Enter the Devouring Maggots from Heroic or Mythic Waycrest Manor. This is the gross part. They inflict the infest debuff which can spawn worms and those worms can themselves can birth more worms if the 50 percent chance of becoming Parasitic succeeds. Rextroy was covered in maggots and used a hearthstone set nearby Uldir to bring them into the raid — they note you can also be summoned or use the summoning stone too. The maggots count as enemies for Last Defender and, combined with Grand Crusader and Crusader's Judgment, Rextroy was able to down the boss pretty quickly.
Rextroy only warned people that with enough worms, the game can actually crash. Is this the first solo kill where the game itself was a primary enemy?
The entire strategy is so absurd (and gross) that it almost sounds like a joke, but you have to hand it to Rextroy making use of it. While the talent has been nerfed to hard cap at 50 percent damage reduction, technically the worms are still usable, if you want to just run around as a walking infestation (ew, please don't).