Enjoy your classic WoW with a side of classic Thottbot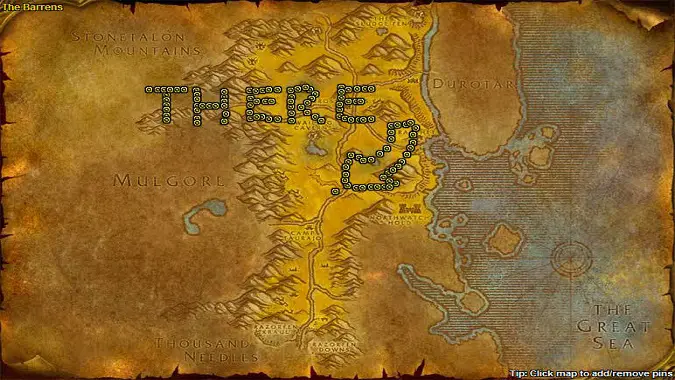 I remember with absolutely vivid clarity the first time I used Thottbot, all the way back in 2004. While I had been mostly successful with completing quests on my Night Elf Druid, the quest to obtain aquatic form was giving me some serious issues. Most of that was wrapped up in the fact that as a Night Elf, I had yet to travel to the Eastern Kingdoms — and unfortunately, that's where the Half Pendant of Aquatic Endurance was located. The clues I was given for its location weren't really specific, and after an hour or so of fruitlessly staring at the world map in-game, I turned to the internet for help.
Enter Thottbot, where a small collection of incredibly helpful comments pointed out where the pendant was located, and how to get there. It was the first of many Wetlands gauntlets I ran on many, many Night Elf alts as the years passed, and the most terrifying. But Thottbot continued to prove its usefulness time and time again when I got stuck — remember, this was before quest items sparkled to let you know exactly where they were sitting.
Unfortunately, Thottbot eventually went away, sort of — its database was merged with Wowhead. In 2016, it vanished entirely. But we still had Wowhead, and over the years Wowhead has become an almost indispensable part of the game. If you're stuck, you look up stuff on Wowhead. If you want to know where to find a particular piece of armor, you look it up on Wowhead. If you want a refresher on quest text for a quest that's been removed from the game…you get the picture.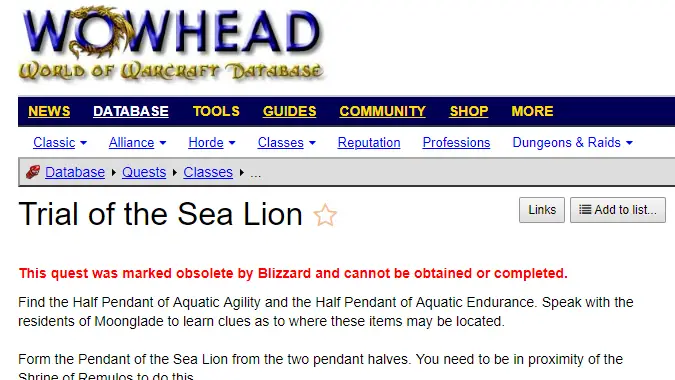 With the arrival of WoW Classic looming ever closer, Wowhead launched Classic Wowhead. It works just like the Wowhead we know and love, but it's utilizing just the Classic database — you won't find any entries on Kul Tiras, Zandalar, or even Outland for that matter. And for fans of Thottbot, lost so long ago, Wowhead just introduced a Thottbot visual theme to the Classic Wowhead site.
To be clear — this isn't Thottbot. But it is a pleasant reminder and nice homage to the original database players leaned on back in the early days of WoW. If you're planning on hitting WoW Classic when it releases this summer, I'd suggest bookmarking Classic Wowhead in advance — you're going to need it. Trust me, you are so going to need it.
Thanks to Thottbot, I eventually found that Half Pendant of Aquatic Endurance, picked up the largely unsettling sea lion form, and promptly spent the next couple of days making a circle around the entirety of Kalimdor. No, it wasn't the most productive use of my time, but it was a lot of fun — and isn't that what WoW is all about?