Off Topic: Anthem might be interesting if it would stop crashing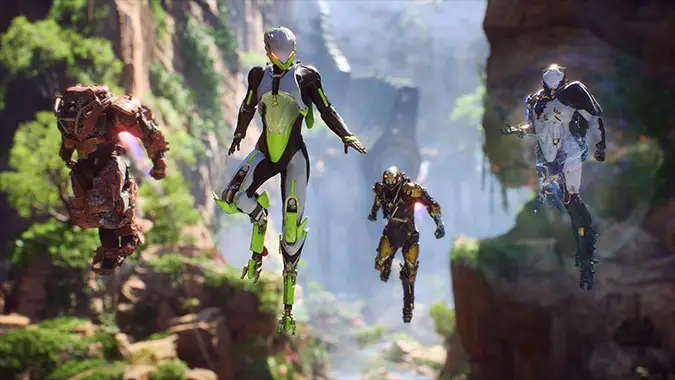 If you want first impressions of BioWare's latest game Anthem, I can tell you that I briefly thought it was a game that sought to comment on the endless repetition of loot-shooters by having me perpetually stuck in its opening sequence.
Crash after crash, I kept enduring the ridiculously long load times to jump back into my super-powered Javelin suit and shoot damage numbers out of lava spiders. I made the same dialogue choice over and over again, and I listened to the lady in my voice communications fret over the Anthem of Creation. Eventually, I finished it — but not after lighting a fuse of frustration that this million-dollar game couldn't run properly on my more-than-capable PC. Anthem already went through alpha and beta periods. Why is the Frostbite engine so garbage?
That's not a question I was able to answer with a few hours in the game. It definitely kept coming up as I played more of this third-person shooter that draws heavy, heavy inspiration from games like Warframe and Destiny. You can queue into missions via a map screen with other players and jet around a post-apocalyptic landscape filled with magical enemies and creatures to loot, but if you disconnect or crash, none of it stays with you. When you alt-tab back into the game during its egregious loading times, you'll be met with more voice overs about the story that you likely won't hear over your teammates rushing through the mission until the end.
Anthem is a game that will both overload you with weapons, armor modifications, special and pretty-looking abilities, while also trying to tell a Mass Effect-level story about precursor races and manipulative villains. Even if you can stay connected and technically stable for a few hours, it's hard to find something unique in its world other than the sheer quality of writing and facial animations (at least with characters that will be sticking around for a long time). It desperately wants human, emotional, and even funny characters, but it also wants to have you slay lots of enemies, collect resources, and level up.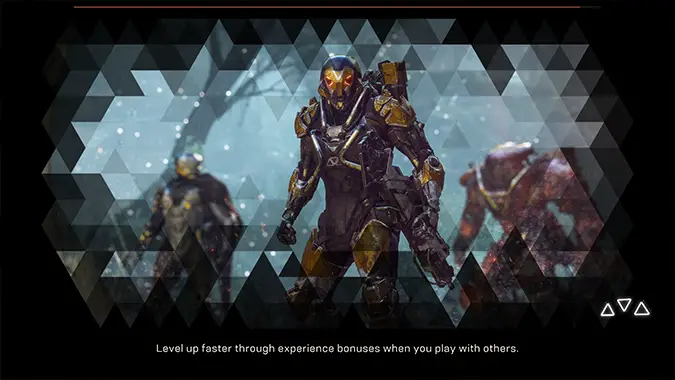 The two don't mesh as well as in BioWare's single-player RPGs, even if the combat looks like it has tons of potential. One of my issues with Destiny is that the classes in the game don't quite work together in a way that feels necessary in order to kill dangerous enemies. They feel individually effective. In Anthem, the Javelins get abilities called Primers and Detonators that, when combined, deal extraordinary damage that is probably going to be the ultimate challenge in its harder content. Destiny makes its raid content about puzzle fights and coordination. I expect Anthem to demand you to specialize in a specific type of combo move-set that will fit nicely with a friend's loadout — which seems really promising.
I'm not sure if I have the same level of hope for the story and the lore. Anthem isn't interested in quiet moments like you'd get on a loyalty mission with a teammate in Mass Effect 2. It wants to sell me on yet another sci-fi world that mixes tremendous scenes of wildlife and flora with metallic structures. It's a setting I've seen many times before, and so far, I can't find a single thing that seems interesting about it. On top of that, it's hard to appreciate any of it when you're grouped up with random players by default that want to speed through everything.
I want to play more Anthem, figure out its abilities, many Javelin suits (I've only played with the Interceptor), and see what coordinated, group-play is actually like. It needs to stop crashing and disconnecting — I ran into a specific character that caused a server disconnect — so I see what's actually going on in it. What's here right now isn't very compelling, but I'm open to a new age of BioWare where complex, satisfying combat is the priority over detailed, character-driven stories. After all, this is a game where the jets on your Javelin flare up and fill your headphones with deep, satisfying rumbles when you jump and boost around, but the beautifully rendered civilians around its hub world only move their mouths without saying a word. I can't tell what this game wants to be, but I'd also have to get past all the technical issues to be able to tell.