Off-Topic: HBO's Chernobyl scares you with radiation, but reveals a larger threat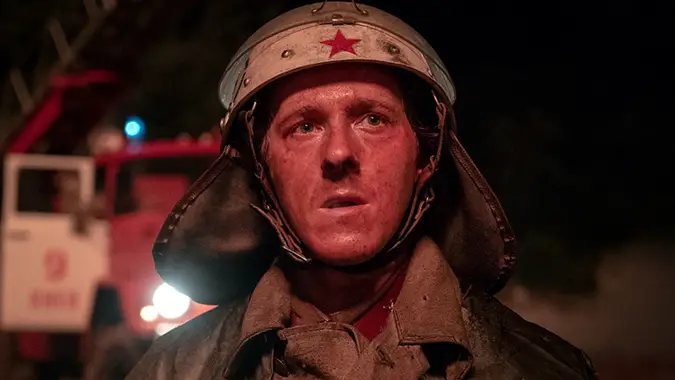 HBOs new miniseries Chernobyl wants you to think the real villain is invisible, but no less lethal.
It's early in the morning in Pripyat and the Chernobyl Nuclear Power Plant explodes, imploding sections of the building and releasing deadly levels of radiation into the area. The air looks fine, but it hosts a toxic reaper.
Chernobyl — which is painstakingly based on the real 1986 event — uses this menace to color events following the event. There's a haze of particles sweeping over the white-garbed men that scramble to understand how much went wrong in the the first episode, 1:23:45. You squint at each piece of debris knowing that all of it will eventually kill them. It's dreadful. And the show knows it.
Like unknowing teenagers partying in an abandoned cabin, you watch as the men of the power plant peer into where the nuclear core once was and come out with red-tinged faces. "Do you taste metal?" they ask. They cough and puke and stumble and yet nobody acknowledges what's happening, says the word "radiation".
Chernobyl is careful to depict the radiation sickness as a byproduct of human error and arrogance. The supervisor is willing to risk his workers' lives to assess how bad the situation is so that he can keep his job. He orders them to check the radiation levels with a meter and the men tell him that it only goes so high. Don't bother getting the larger one, we'll just report that it's not that catastrophic, he says.
It's this kind of human stubbornness in the face of horrible events that leads to the incorrect information sifting its way to the government officials, who only want to swiftly and quietly clean the mess up. There's no sympathy for the men, for the families that live near the facility, that will suffer from the effects of it for years.
It's terrifying to watch the show follow people into what could be their last moments alive. But the show, which will continue for four more episodes, seems intent on making you fear the men in charge and see how their hierarchical structures risk the lives of those on the lowest levels.