How to get Overwatch League Tokens to buy team skins for free
Click here for more photos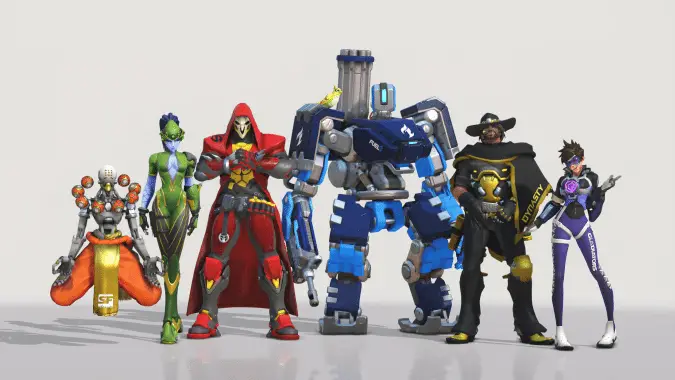 If you want to look good in the Overwatch League in-game skins, you'll need Overwatch League Tokens to purchase them first. Here's exactly how to earn them and a neat trick for those who can't always watch live.
The first thing you absolutely have to do is link your Blizzard account with Twitch and MLG — the two streaming locations for OWL. You can do this by going to your Twitch Connections page and connect it to your Battle.net account. For MLG, you'll need to go to the Linked Accounts page and connect it to your Battle.net as well.
For console players, it's the same deal, but you need to make sure you've connected your console account to your Blizzard account by visiting the Connections part of the Blizzard Account Management page or from the in-game Link Accounts option.
If you plan to watch on the OWL website or use the app, just make sure you're logged in.
Now all you have to do is watch the live matches. You'll earn three tokens per hour watched. Your view time is accumulated over time so you don't need to worry about only watching 45 minutes in one session. You'll have a chance at Tokens for the duration of the schedule match times and 105 minutes after the final match of the day. And on the final map of each match, you'll have a chance at receiving 100 Tokens.
If you find you're still not getting tokens, Blizzard has a help page that can potentially solve that issue. Keep in mind that the system isn't without its flaws. Sometimes it won't notify you until much later that you got the Tokens for the day.
Here's a small tip for PC viewers: if you can't watch live and need to do something else on your PC, you can either drop Google Chrome's volume to its lowest setting possible and leave it open in a tab — muting won't count you as a viewer — or you can open Microsoft Edge and mute it in a minimized window. Console viewers can open it in the Twitch app and turn their television off too.
Once you earn 100 Tokens, you'll be able to purchase both a home and away OWL skin in the game and show off your favorite team's colors. In the past, Blizzard has rewarded double the tokens for the All-Stars games, and released exclusive skins that cost 200 tokens each.
OWL Stage 3 begins this week and will follow its normal schedule of games beginning each Thursday and running until that Sunday. So watch some games, earn some Tokens, and get those sweet skins!