This week's Hearthstone Tavern Brawl is all about aggro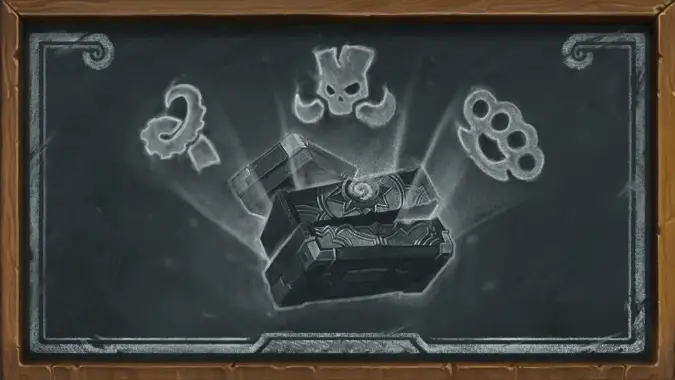 This week's Hearthstone Tavern Brawl is an odd one. The goal is as simple as it gets — defeat your opponent — but to do so you'll have to build a deck out of an unusual selection of cards. Any deck you built can only include cards from Whispers of the Old Gods, Mean Streets of Gadgetzan, and Rastakhan's Rumble. Not only are other sets not allowed, but Classic cards aren't allowed either.
This is a pretty big twist on the current Hearthstone meta that makes many decks impossible. The loss of the Classic set removes staple cards from every class — and makes this a hard one for players without much of a card collection. Most silence and removal effects are gone, which means that whoever can build a big board first is likely to win. That makes this brawl a race to get threats down before your opponent can. You have to pay a fast, aggressive game if you want to win.
The available cards do bring some old favorites back to the game, most notably C'thun from Whispers of the Old Gods. C'thun decks seem to be dominating this brawl, but Jade decks, Evolve Shaman, and a variety of zoo decks are doing well. Because the decks you build will depend pretty heavily on your card collection, I'll offer some tips rather than giving you strict deck builds:
If you have C'thun, it should be in your deck, alongside any cards that can buff C'thun. The strategy here is to build your C'thun up and put him down on turn 10, where he'll do a huge AOE that your opponent probably can't come back from.
Jade decks are also good, relying on cards that bring out Jade Golems, which get stronger for every Jade Golem you've previously played. Get Golems down fast to overwhelm the board.
Evolve Shaman focuses on building a big board and then using evolve cards, which change minions into minions that cost one more mana, to make their board stronger. When I tried an evolve deck, I found it too slow — but I was also beaten by it more than once.
If you don't have any good cards from these sets, you want to build a zoo-style deck with a good mana curve. Pack your deck with minions, particularly cheap ones, so you can hit your opponent fast and hard. Focus on building a big boards of minions to overwhelm your opponent, who will have trouble removing a full board. If you have any way to buff your minions, the stronger you can make them, the better.
If you wind up facing a C'thun deck — and you probably will — the game is all about speed. You hav to overwhelm them before they can get C'thun down, so play aggressive and do as much damage as you can as fast as you can.
Good luck, brawlers!