As WoW Classic realms keep filling up, Blizzard struggles to avoid massive queue times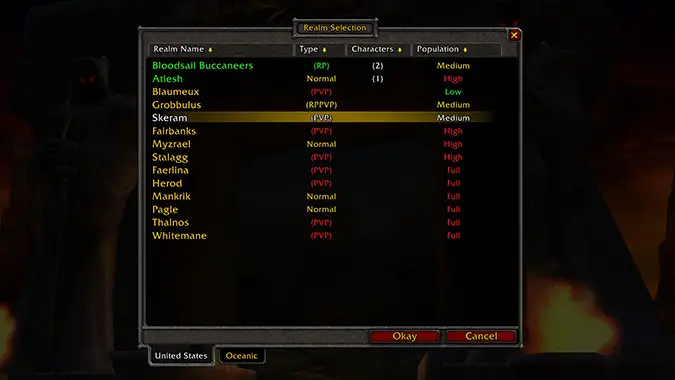 The WoW Classic realms are filling up fast, with almost half of the available realms already at full population allowance. Although it's only based on name reservations, it's likely that you'll run into 10,000 player-long queue times.
Blizzard has added a few realms since the initial name reservation date, including two PVP servers just last week — one of which is already at medium population. Out of the 14 realms currently available, six are full — Faerlina, Herod, Mankrik, Pagle, Thalnos, and Whitemane — and all are expected to have extended queue times. The developer is urging players to move off of the full population realms so that they will be able to actually play the game on launch day.
Each of the Full realms has a LOT of characters to the extent that it may be more than can fit into the queue system. As a result, you may not be able to get into the queue when you want to play and even if you do, it will likely be a very long wait. For a better play experience, we highly recommend that players avoid creating characters on any realm marked as Full.
Community Manager Kaivax explains that even though today's servers can fit more players than the original game, they want to keep it equal to the original experience. "Raising realm caps would simply forestall the problem," Kaivax wrote, "letting more players in at launch but creating an unsustainable situation down the line, with severe queues when we turn off layering permanently before Phase 2 of our content unlock plan."
Blizzard (sort of) has a contingency plan
In the Reddit AMA this week, the developers talked about having contingency plans if the queue times get horrible. They may allow server transfers or open even more new realms. One of the issues is that they can't accurately tell if people who reserve names will actually play the game, and if they do, for how long.
This entire thing poses a tricky problem for Blizzard. They want to maintain the nature of playing with a set population of players but also have to manage the huge influx of players at launch. It's both commendable to see them adhere to the original game's experience and also worrisome considering the amount of frustration modern games get when their launches are rocky.
Making new technology work with old gameplay
It's interesting because this problem of bridging old with new is kind of the heart of what WoW Classic is about. That philosophy of recreating something of a different age of technology naturally creates problems when you drop it into an era where players have high expectations when it comes to online-based games.
The best part about this is that it seems very apparent to Blizzard that this is a huge knot to unravel come launch day and they seem prepared to toil away at it until it feels right. It might result in a shaky launch, but it seems like at the very least it'll be handled responsibly.