Overwatch on Nintendo Switch isn't for everyone and that's okay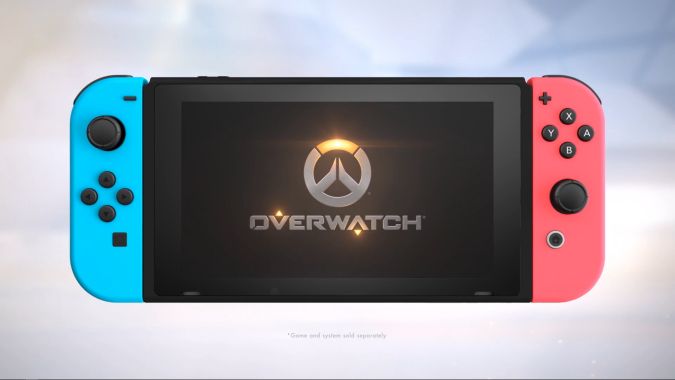 Three years after Overwatch launched to incredible popularity in 2016, we finally, finally have the shooter on the Nintendo Switch. It's the full game at your fingertips — all 31 heroes, 21 maps, and a variety of game modes are available in the same way they are on PC and consoles. It's Overwatch in your hand, and it functions as good as you'd expect.
For a PC player that has over 2,000 hours in the game and plays it at a high resolution and frame rate, Overwatch on Nintendo Switch runs badly. The game's not-so-locked 30 frames per second (the Xbox One and PlayStation 4 versions run at 60) in handheld mode makes it feel like there's a delay between you pressing a button and your hero performing the action. You can feel it the most when you look into your scope on Widowmaker or Ana. Your muscle memory wants to scope in and immediately fire your weapon, but the game is always a step behind — or worse if the frame rate dips below 30. It's fine for rare actions like healing yourself as Solder: 76, but it ruins your rhythm when you're trying to quickly execute a bunch of actions to outplay or dodge an enemy player.
Everyone in the match is playing under the same limitations so it's not unbearable, but Overwatch was designed for rapid use of hero abilities and accurate aiming. The frequent pauses break the flow of the game, turning it into something that only echoes the joy of playing Overwatch at first glance.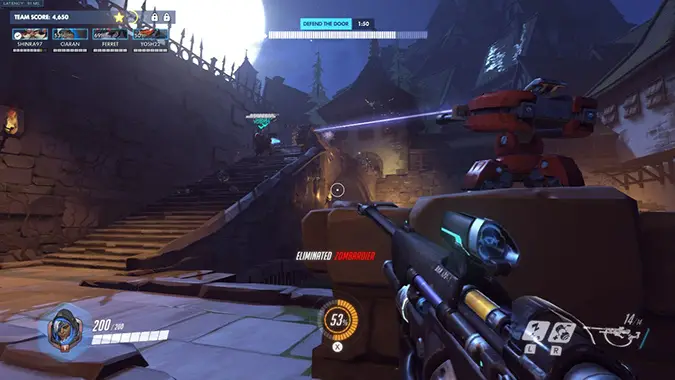 That's why the game's release alongside the Halloween Terror 2019 event makes sense. Junkenstein's Revenge is a PVE mode that doesn't demand a high level of precision unless you play the harder difficulties. Playing a quick round as Ana revealed to me why the Switch version can still work despite the technical restraints. In the context of a game mode where you're not pressured by enemy players or have your Skill Rating on the line, it works. For non-frame-rate-snobs the Arcade modes and Custom Game modes resemble the dream of being able to simply mess around on different heroes on a mobile platform. A quick game or two of Arcade to grab a few loot boxes or exclusive skins and cosmetics while in bed is why Overwatch on the Switch was always a clever idea on paper. It's the fast-paced competitive nature of the other modes that don't work in practice.
If you spend time in modes where you need to worry about what kind of team composition you have or whether or not your team is grouped up to attack the objective, you'll start to learn how to harness the game's unique motion controls. They work exactly how you'd expect: you tilt the Joy-Cons or the Pro Controller to move your crosshair around at computer-mouse-level fidelity. As someone who has also played the game a bit on PS4, the accuracy of the motion controls are a relief in comparison. With some tweaking to sensitivity and aim assist, you can make it so the motion controls help you with either broad movements or tiny movements. This mirrors how people play with a mouse. It's common for players on PC to use a low sensitivity so that their arm movements guide the mouse to targets, and then their wrists do all of the tiny, precision aiming. To be able to have that in a console version of the game makes up for the frustrating lack of fine-tuned control in the analog sticks.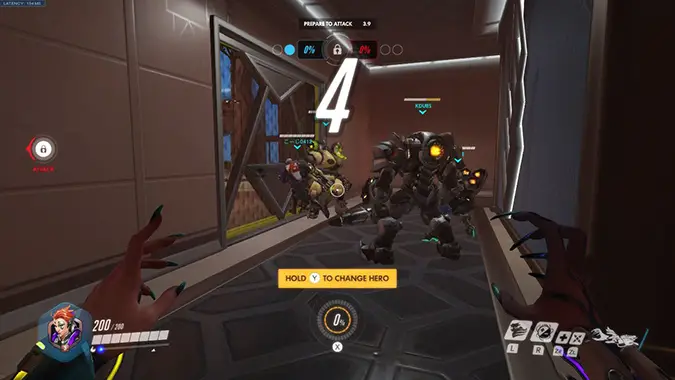 Unfortunately, the motion controls don't come without their issues. Like any type of motion controls based on gyroscope technology, they work off a starting point in the middle of your screen as soon as you begin to use them. That means that if you tilted your wrists to the left to shoot a Junkrat but then hit the analog sticks to turn around and shoot at something else, the starting point resets to the middle of your screen and your hands are still twisted to the left. You find yourself in situations where you can't physically turn your wrists enough to match where you want to aim. Without a bunch of physical practice with the orientation of your wrists — something I'd never expect to have to learn how to do — the motion controls can be awkward at best and painful at worst.
With time, the frame rate can be adjusted to and the motion controls can be too — or completely ignored if you turn them off. Overwatch on Switch is clearly not for people who already play more than casually on other platforms. It's simply not operating on the same level. But if you go into it like playing any other pick-up-and-play Switch or mobile game, the frustrating comparisons start to fade away. You can still heal and get off resurrections as Mercy. You can still blow up a bunch of enemies with a sneaky RIP Tire as Junkrat. The core of what makes playing Overwatch so distinct from other shooters is still in there, it's just at a very different pace. You have to fight against the game's ongoing shift to twitch-based, competitive action, and play it for the fun of it.
It's not for everyone. In fact, it won't be for many people, especially those who want to improve at certain heroes and climb the competitive ladder. It's for people who want cute skins and to hang out with friends.
In some ways, it's about everything that Overwatch has lost in the last year or so. The Switch port is a welcoming place where there are custom games that invite people to learn the game together, hang out, and experiment. It's a place to unearth the nuggets of joy that made Overwatch so compelling three years ago.
A copy of Overwatch for Nintendo Switch was provided by Blizzard.