Blizzard finally bans American University Hearthstone players who supported Hong Kong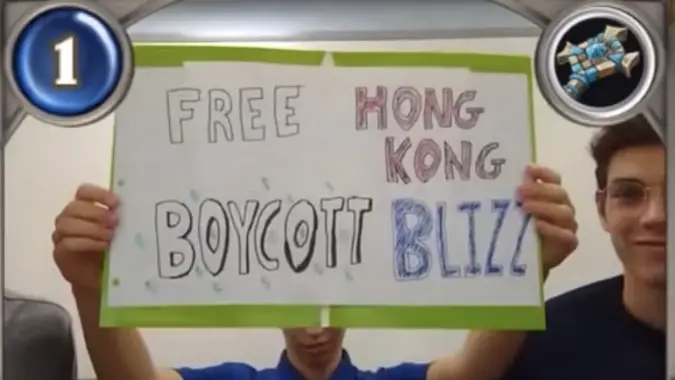 Blizzard's Hearthstone controversy keeps getting stranger. First the company banned Chung Ng Wai (Blitzchung) from participating in any Hearthstone esports for a year and rescinded his prize money after he yelled "liberate Hong Kong, revolution of our age!" during a post-game interview stream.  Then Blizzard said it was never going to work with the casters on the stream again, even on other games. The move seemed politically motivated: to do business in China, Blizzard (and pretty much everyone else) need to keep China happy. That means not talking about sensitive topics like Hong Kong.
[BREAKING] Hong Kong Hearthstone player @blitzchungHS calls for liberation of his country in post-game interview:https://t.co/3AgQAaPioj

@Matthieist #Hearthstone pic.twitter.com/DnaMSEaM4g

— 🎃 Inven Global 🎃 (@InvenGlobal) October 6, 2019
That's when the calls for boycotts began. #BoycottBlizzard started trending. People started canceling their subscriptions. And after a week, Blizzard was forced to respond, lowering the bans for Blitzchung and the casters to six months and restoring Blitzchung's winnings. But at the same time, Blizzard said their actions had nothing at all to do with what Bliztchung said — and definitely nothing to do with their dealings in China. Instead, Blizzard claimed that the ban was purely for talking about non-Hearthstone topics on stream.
The statement was hard to buy, because when Blizzard announced the ban, it cited a rule that explicitly banned players for any act that "brings you into public disrepute, offends a portion or group of the public, or otherwise damages Blizzard image." How could Blizzard ban Blitzchung for for saying something offensive while also claiming the ban had nothing to do with what he said?
in tonight's Collegiate Hearthstone championship, American University held up a "Free Hong Kong, boycott Blizzard" during the broadcast, which was quickly cut away by Blizzard pic.twitter.com/Y9eXtLfuGw

— Rod Breslau (@Slasher) October 9, 2019
But the plot thickens: after Blitzchung was banned, American University collegiate team protested by holding up a sign on stream that read "Free Hong Kong, Boycott Blizz." And initially, Blizzard ignored it, taking no action at all.
Now Blizzard is reversing course and trying to fix its mixed messaging by banning the team from competition for six months, just like Blitzchung. On top of this, Blizzard is reportedly no longer allowing player cameras at collegiate tournaments or doing post-game interviews, so no one will be able to do the same.
Happy to announce the AU Hearthstone team received a six month ban from competition. While delayed I appreciate all players being treated equally and no one being above the rules. pic.twitter.com/mZStoF0e0t

— Casey Chambers (@Xcelsior_hs) October 16, 2019
Again, Blizzard explains that this was not about what the team said, simply about where they said it. Participants in collegiate tournaments cannot take any action that is "abusive, insulting, mocking, or disruptive." The AU team knew what it was doing when they held up that sign, and expected a ban. When the ban didn't come the team announced they would forfeit the season to keep things fair — and they're taking their punishment in stride.
At least Blizzard is evenly applying its own rules, but it still seems a little odd. Blitzchung was banned within two days of the stream, while it took Blizzard over a week to ban the AU team. It's mixed messaging to say the least.
In addition to killing off collegiate player streams, Blizzard is also canceling events which might become hotbeds of protest: this week a launch event for Overwatch on Switch was called off and the Taiwanese WoW 15th anniversary celebration was postponed. (While the latter announcement isn't in English, the translation explains "We are considering different options and will announce new event dates in the future.") But gamers are already organizing BlizzCon protests, and that's one event Blizzard certainly won't cancel.