The Queue: Feel I was running an endless mile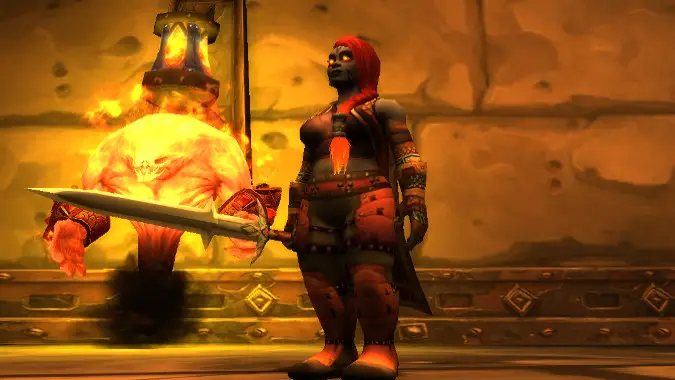 I still love this song. And since Anna decided it was earworm time on the Queue, I might as well try and give mine to you.
Hi. I'm Matt. I'm doing the Queue today. What are you all doing?
---
BRAINSTAIN IS AWAKE AND ALIVE
If you don't already have a Monk, go Monk. A Vulpera doing crazy martial arts? Yes, please. After Monk I'd recommend Mage, but if I were being honest I wouldn't really recommend Mage, I just never could get into playing them. Yeah, I'd definitely say go with Monk.
---
TAURENITUP DOES NOT THINK THE TIME IS NOW
Folks avoiding Rise of Skwalker spoiler: how you holding up?
Twitter last night got a wave of leaked stills, as well as folks confirming certain plotpoints and script details and whatnot, which means it will grow exponentially for the next couple of days.
I chose the high level strategy of having both of my eyes injected with the medicine that works to keep my vision from utterly rotting away. This has distracted me quite effectively.
---
RED (AND WHITE STRIPES) IS THE MONSTER YOU MADE HIM
Q4TQ: which super popular fandoms are you not a part of, either because you don't like the products, are not interested in them, or some other reason?
Most of them frankly. It's not that I think they're bad in most cases, it's just that my tastes are idiosyncratic and I'm not terribly good at interacting with people — I am abrasive and awkward and I feel anxious in groups. So even when I go to BlizzCon, I end up spending much of my convention sort of paralyzed by dread.
So I don't really define myself as a member of pretty much any fandom. I feel like I only count as a part of the Blizzard fan community because I'm everybody's weird uncle — nobody really likes me or wants me around but I've been here forever and everyone's nice enough to tolerate me.  I know it's my anxiety talking, but it's hard to shake that. I am not good with people, although I certainly wish I was. Maybe then I'd know how to sell my own writing better than I do.
So when everyone loves on Baby Yoda or Harry Potter or whatever, I'm usually way off in the back re-reading the Gormenghast books and muttering to myself. I am forever outside of whatever fandoms have arisen, even if they're built around things I dearly love. I am alone.
---
JALAMENOS OF LOST LIGHT CAN HEAR THEM SCREAMING OUT THEIR NAME
I'm not going to lie, I find the whole concept of how they're going to handle flying in Shadowlands leveling to be one which requires a pretty basic approach. Essentially, I think we should just get flying at level 10.
No, really. At this point, all that 10 to 50 content is leveling content — you're going to be leveling up in one of the various expansions or in the original game, or jumping between any and all of them at a whim. Keeping the elaborate series of 'you must be this tall to ride this ride' approaches to flying in older content simply makes no sense. Especially with Cataclysm zones assuming flying from the jump.
Just let everyone fly. Go ahead and keep Pathfinder for the 51 to 60 Shadowlands content, but for everything else? Just let everyone fly.
---
SPENCER MORGAN DOES NOT PLACE FAITH IN HUMAN BEINGS
Q4tQ: possible back2back Mitch Queues this week?
Sorry to disappoint you.
---
GREATFATHER KALCHEUS IS RUNNING UP THAT HILL. IF HE ONLY COULD MAKE A DEAL WITH GOD
Q4tQ: Did Blizzard say that Allied Race DKs won't be eligible to unlock the Heritage Armor?
I have not found any statement from Blizzard on this subject. I looked, but I could not find it. I assume they'll be allowed to do so in Shadowlands itself, as they'll be starting at level 10, but I don't know how they're handling it in 8.3.
Okay, guys. I'll see y'all next Wednesday.