What reputation grinds have you struggled with the most?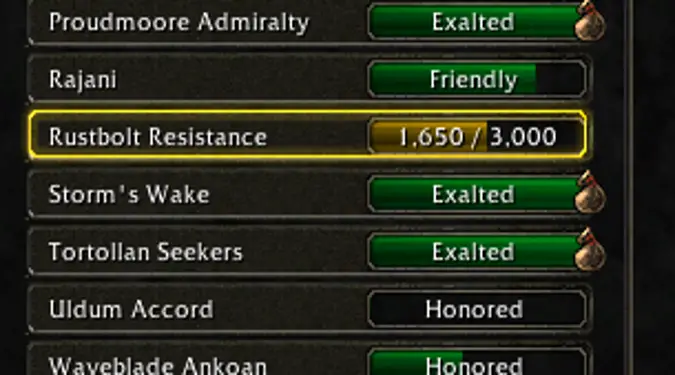 For me, the Rustspark Resistance has been the absolutely hardest rep grind, because it combines being in an out-of-the-way place with being completely and totally uninteresting to me in one package. I'm not ignorant of the fact that I do have to do it if I want to get flying — I'm just so utterly disinterested in doing it that I'm pretty sure I'm not going to get flying this time around, because I don't want to do this. I'm still barely half way through neutral — that's how completely, mind numbingly disinterested I am in getting these guys to like me.
There have been other reputation grinds I've found myself disinterested in, but Rustspark is probably in my top three least enjoyed of such grinds ever, and that includes Timbermaw when I was grinding that for the Agility enchant. At least that one I could just sit and grind out, not have to run around an island doing quests I find inane at best. I'm not sure if I've found a reputation I've cared about less than I do about Rustspark and that's with the stick of knowing I won't ever get flying if I don't do it — I just find myself accepting that World Quests in Kul Tiras, Zandalar, and Nazjatar will just be harder and there's nothing I can do about it because I have to do something that I simply cannot bring myself to do. I enjoy the game more the less time I spend even thinking about Rustspark.
So how about you? Any reputations you just didn't want to do? You don't have to hate them — I don't hate Rustspark as much as I simply can't muster the energy to actually do that grind. But any reputations that tasked you to complete, that you thought maybe you never would finish them, or even ones you didn't finish?