Hearthstone's Burndown Rekindled Tavern Brawl is an evolutionary concept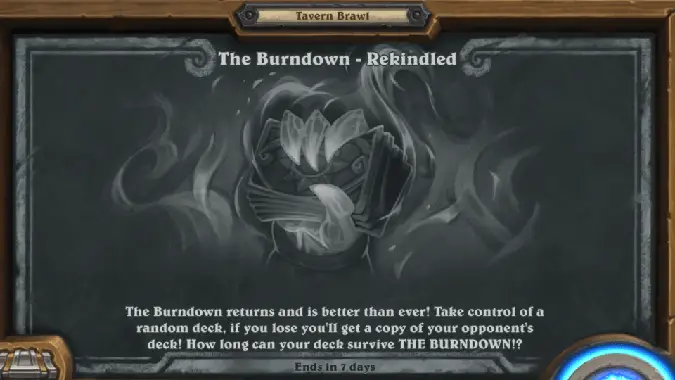 I'm intrigued by this week's Hearthstone Tavern Brawl, Burndown Rekindled. This is a variation on the Brawl first seen in July of 2019 from the Midsummer Fire Fest-E.V.I.L. The burndown name comes from the backstory that Ragnaros was pitching decks against one another to find the greatest of them all.
I'd expect to see some of the common mechanisms seen in the study of evolution in play here. The driving mechanism is the same as the original: two species (decks) vie for survival with the stronger one winning. The difference is rather than mutate by changing a card or two, the winning deck takes over the losing deck.
Tavern Brawl basics
Name: The Burndown Rekindled
Description: The Burndown returns and is better than ever! Take control of a random deck, if you lose you'll get a copy of your opponent's deck! How long can your deck survive THE BURNDOWN!?
Fun level: 7/10
Difficulty: 6/10
Replayability: 9/10
Format: Wild
Type: PvP
Deck: Provided
Rewards: 1 Classic pack
Decks are again randomly-generated, but as during the first iteration of this Brawl, they are based on the dungeon run bucket system, giving them some degree of overall strategy and card synergy. You don't pick your class in this Brawl. The best you can hope for is you receive a class you're familiar with.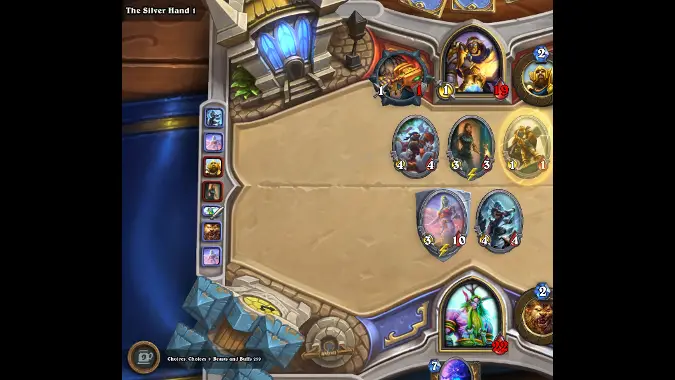 Depending on your client, you may see the name of your deck and your opponent's deck on the left-hand side of the screen, and if you see Mercenaries 280 you're in luck: it was one of the most powerful decks seen last time around. It featured plenty of Pirates, along with two Ship's Cannon.  Fool's Bane with possible Upgrades, and Warpath helped control your opponent's board. Dragons 381 held its own against Mercenaries 280 with defensive cards like Cathedral Gargoyles and Annoy-O-Trons.
Thus far, I haven't seen either Mercenaries 280 or Dragons 381. My Druid deck was Choices, Choices plus Beasts and Buffs. It doesn't exactly roll off the tongue. There have been reports of a Burn Mage and a Zoo Warlock called Lil' Demons 38 doing well. I've also seen or played a Resurrect Priest, a Rush/Taunt Warrior, an Elemental Mage, a Dragon Warrior who beat me with a well-timed Deathwing, a Control Mage who got a lucky Yogg turn, and a Deathrattle Hunter.
After the match, you're shown a screen with how many times you've won with your deck and how many times your opponent has won with his.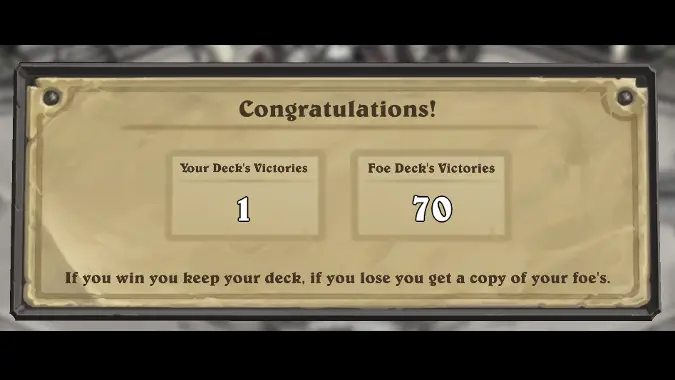 How to win The Burndown Rekindled Brawl
Keep queuing up! Your initial deck might not be all that great, but once you lose, you'll receive the deck from your opponent. The longer the Brawl goes, the more likely you'll get a powerful deck and start winning.
Try to figure out the strategy of the deck and play to its strength. Think about how your opponent defeated you, and look at the name of the deck for clues. Like the past several Brawls, the Arena mindset is king in these matches. Make smart trades that leave your board in a better state than your opponents. Board clears are rare.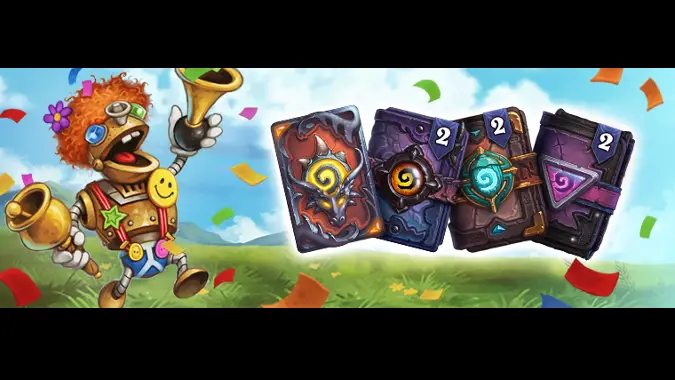 Spirit of Competition event kicks off with this Brawl
Even if you're not super excited about the Brawl, if you play Hearthstone even casually, you'll want to log in for the Spirit Competition Event. The Tavern Brawl format is celebrating its sixth birthday and all the players are getting the best gift Hearthstone can give: free card packs.
Log in any time between March 4 at 10 a.m. PT and March 17 at 10 a.m. PT to receive two Rise of Shadows packs, two Saviors of Uldum packs, two Descent of Dragons packs, and the Year of the Dragon commemorative card back!
Make sure to finish up those daily quests as well, because the Spirit of Competition event will kick off a new legendary quest chain you won't want to miss!
March 4th, 10:00 AM PT: Play 2 games in any mode to earn a Descent of Dragons card pack.
March 5th, 10:00 AM PT: Play 20 cards to earn a Rise of Shadows and Saviors of Uldum card pack.
March 6th, 10:00 AM PT: Take 30 turns to earn a Rise of Shadows and Saviors of Uldum card pack.
You can clear these quests in a Tavern Brawl, so it's as good a reason as any to play Burndown Rekindled.