The Hearthstone decks you need to win the Who's the Boss Now? Tavern Brawl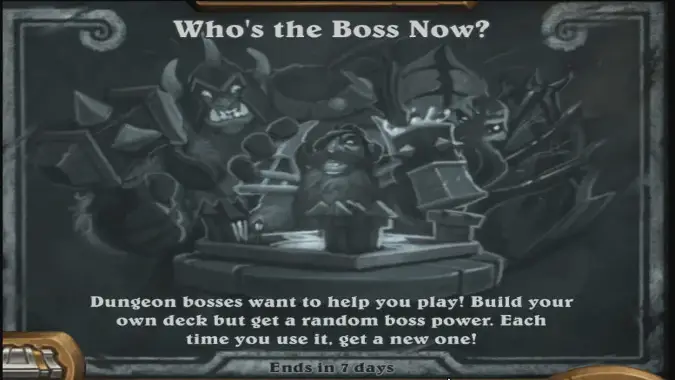 Ay-oh! Oh-ay! Blizzard wants you to get in on some of the the fun the Hearthstone Adventure bosses have in the Who's the Boss Now Tavern Brawl.
The developers pulled this one from the way back machine and I'm not referring to the 80s era sitcom of the same name. This Brawl hasn't seen the light of day in almost four years, but we haven't forgotten how to score a win.
Tavern Brawl basics
Name: Who's the Boss Now?
Description: Dungeon bosses want to help you play! Build your own deck but get a random boss power. Each time you use it, get a new one!
Fun level: 2-5/10 depending on your card collection
Difficulty: 5-9/10 depending on your card collection
Replayability: 5/10
Format: Wild
Type: PVP
Deck: Constructed
Rewards: 1 Classic pack
The only change this Brawl makes is to your Hero Power. You get one of twelve different custom Hero powers from the single-player Adventure bosses. Once you use it, you'll get a different one from the pool. All of the Hero powers cost two mana. The powers range from awesome one like Me Smash: Destroy a random enemy minion to the downright awful Jeering Crowd: Summon a 1/1 with Taunt. So glad I spent 2 mana on that!
This is a Wild Constructed Brawl which means the size of your card collection will have a huge impact on the decks you can build and the amount of success and fun you'll have.

How to win Who's the Boss Now? Tavern Brawl
Like most Constructed Brawls, the key to victory is finding a great deck. You'll want to avoid things like Odd Decks or Quests which rely heavily on the Hero Power. Likewise, Hero cards like Dr. Boom, Mad Genius loose some power in this format.
All that said, this Brawl plays out remarkably like the Wild Ladder. Sure, you can get great hero powers like lining up a Decimate — set all enemy minions' health to 1 — into a Poison Cloud — deal 1 damage to all enemy minions, if any die, summon a 2/2 slime — but that's going to be rare. Awesome if it happens, but not something you can count on.
Instead, you need to focus on building a strong deck that can win regardless of Hero Power.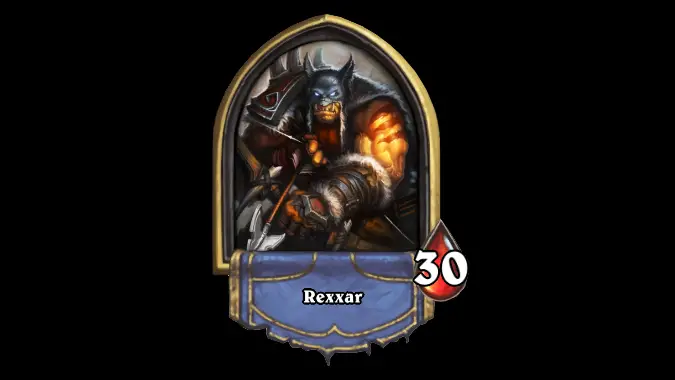 Decks to win Who's the Boss
Inspire-based Token Druid
Deck code: AAEBAZICApUU3BUO9wPmBbYTuBPBE88ThLACzbsCwYoDw5QDzpQDm80D+84DudIDAA==
This one comes from our friends at Out of Cards. It uses all the standard Token Druid tricks. Get your rather innocent-looking Kvaldir Raider to survive a turn, then drop a Maiden of the Lake and turn him into a monster to win the game.
Face Hunter
Deck code: AAEBAR8C2wmHsAMOqALJBJIFlwj+DPixAvuvA4WwA6K5A/+6A5vNA6LOA8bRA7nSAwA=
Another good option from Out of Cards. This deck tries to end the game quickly with constant pressure from cards like Toxic Reinforcements. Classes like Priest and Warrior lose access to their healing Hero powers making this even better than it would be in Wild. It's also fairly inexpensive and a great option if you don't have the biggest collection.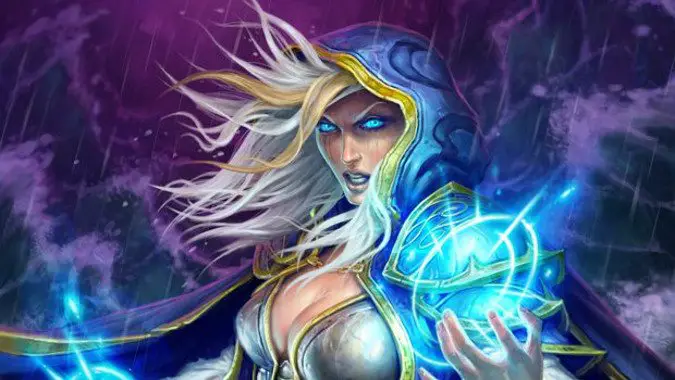 Secret Mage
Deck code: AAEBAf0EBMABiQ6i0wLCuAMNcbsC7AX3Dde2Auu6Aoe9AsHBAo/TAr6kA7+kA92pA/SrAwA=
Too many Secrets. You opponent will never make an optimal play. Slam down your zero mana Kabal Crystal Runner. Two each of Fireball and Cloud Prince give you a possible total of 24 points of face damage in a Brawl without healing Hero powers.
Big Shaman
Deck code: AAEBAaoIAqirAt+pAw6UA7IGzg+gtgL2vQLz5wKf/QKtkQOKlAOPlAPbuAPcuAOTuQPzuwMA
You've got a myriad of ways to cheat out Y'Shaarj, Rage Unbound. Let the old god summon your giant minions to win the game. Go big or go home.
Discard Warlock
Deck code: AAEBAf0GAo+CA9a5Aw4w0AT3BM4HwgjEFNkV1LMCvLYC8tAC/aQD/acDtbkDtrkDAA==
Abuse the Discard mechanics to draw cards, summon minions, gain resources, and even rain down destruction with Fist of Jaraxxus. Build a giant Tiny Knight of Evil.
Pirate Warrior
Deck code: AAEBAQcGyAOvBMUVkbwC9agD3q0DDP8DqAXUBe4G+w+CsAKIsALPiQPcrQPdrQPpsAPAuQMA
Avast! A vast amount of wins, I mean. This aggressive deck never lets up on the pressure. It does have quite a few 1 healthy minions which leaves you a little vulnerable to a Poison Cloud.
Wild Brawls are tough, but keep trying
You're in for a Wild time with this Brawl. Keep an eye on sites like Out of Cards and Hearthpwn which will continually have new decks to try out. Face Hunter is probably your best bet if you don't have a large collection. I'm having fun with Big Shaman. If you find a great deck, leave a link in the comments.
Just remember, whatever the result of your game, there's a brand new life around the bend.