The Queue: Screaming Bear Fists of Justice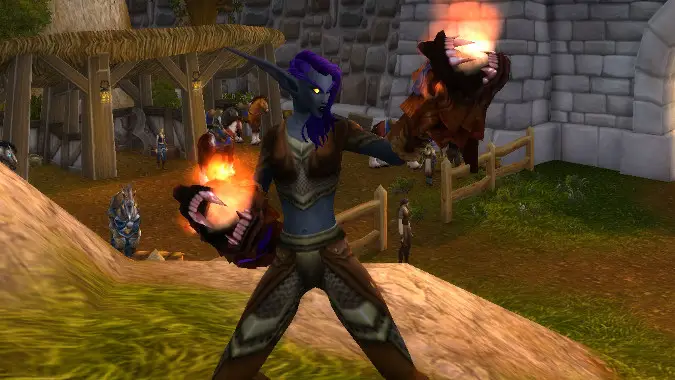 Here she is, in all her burned face, one dead eye, no more excrements given anger. She is going to punch a lot of ghosts.
This is the Queue. Let's all get ready to punch ghosts together. A whole glorious expansion of ghost punching.
Oh, and I'm going in for my eye injections tomorrow, so I won't be reading the replies for a while. I'm sorry about that.
---
KEITH ANTOINE GAMMAGE MISTAKES ME FOR MATT LOW, AS SO MANY HAVE OVER THE YEARS
Q4tQ: I see people commenting that Shadow doesn't fit in with the rest of the priest class, but I thought that Discipline was supposed to be the balance between Holy and Shadow. Does Discipline need to sell the 'we use both light and shadow magic' theme more?
Keeping in mind that my Priest was level 77 last week and is now level 29, I'd have to say yes, they really haven't made Discipline feel enough like it is a spec that deals in both Shadow and Holy. I'm not saying that Disc is bad, just that it really doesn't feel like it's a spec that combines the other two, but instead feels very much like it's about bubbles. That might not be a really fair assessment, though. I've not spent a ton of time on this character.
---
SIBYLLE, LIKE EVERFONE, FORGETS THAT CANADA EXISTS
It is the day of the grumpy troll, the day when I dislike (a little bit) my otherwise lovely fellow Quevians from the US because they already have the patch and I don't!
/grump
also /purr
/butonlyalittle
Not just the United States. We Canadians are also playing with the patch. Of course, by the time you read this, you might have the patch too.
---
SPENCER MORGAN ASKS A PHONETICS QUESTION
Is it cheesy or clever; that the Defias Brotherhood is phonetically the "defy us" brotherhood?
In the words of the esteemed Professor Farnsworth, it can be two things.
---
FUZZYBUNNY WONDERS IF WE'RE ALL STACKED ON EACH OTHER'S LAPS LIKE TURTLES ALL THE WAY DOWN AT THE BARBER SHOP
If a person is sitting in a barber chair does it become unavailable until it's unoccupied?
Since I didn't see anyone actually sit in the barber chair and because I managed to get in and get my character changed up pretty painlessly in Stormwind of all places, I have to say it seems like we're not even sitting in them in the first place anymore.
---
AMBULANCE ROBOTS WANTS TO SEE HOW 'FLEEK' WE ALL ARE NOW.
I am at work for the next six hours, so when servers come up I need people to head straight to the barber and then show pictures of how fleek everyone looks now so that I can use the hype to push through my exhaustion.
Okay.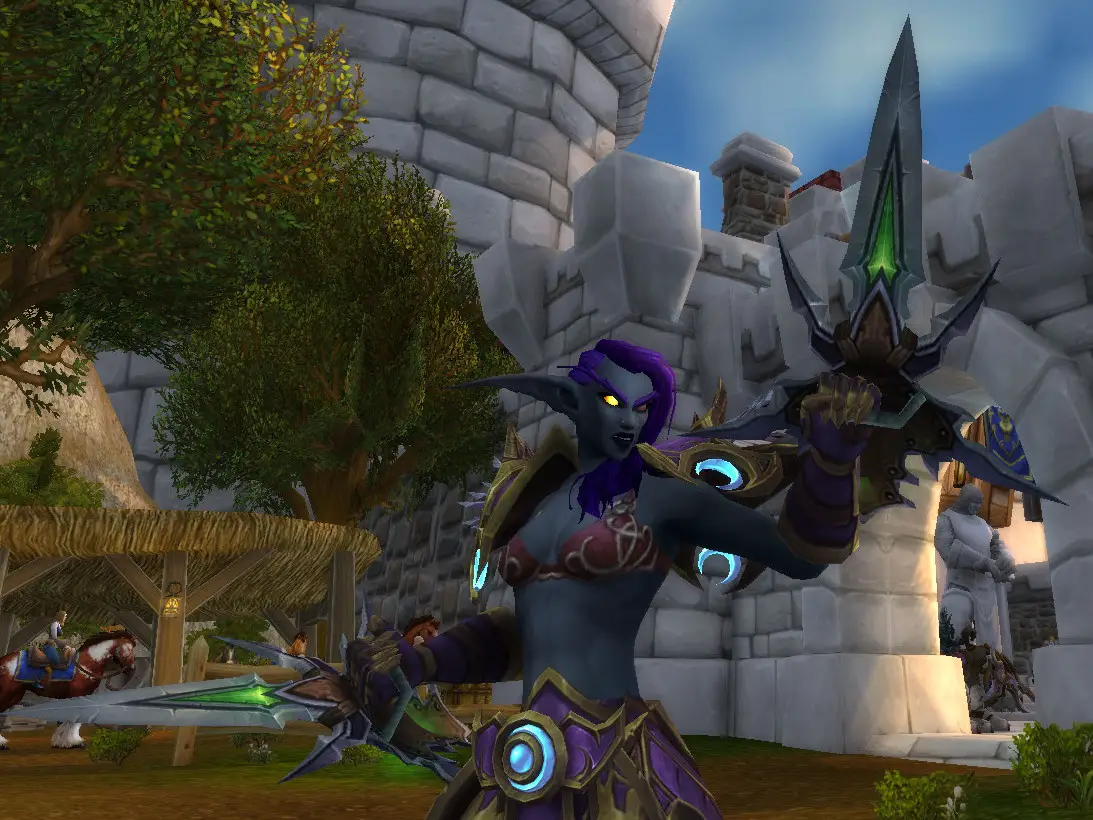 I am seriously hoping they add more burn scars to the game because I'm super interested in giving her burns all over her torso and arms and legs.
Everyone else, post your SS's in the comments please.
---
VALENCEMAGI MAY ALSO BE CONFUSING ME FOR MATT LOW
Q4tQ: How many of Matt's toons are getting hair flowers?
I've only changed one so far, but I'll probably work on my Human soon. The answer is none, currently, but if they let me stick flowers in his beard I'll consider it.
---
ROXXII THE BELOVED WANTS TO KNOW WHY I'M NOT DUAL WIELDING FLAILS
Q4TQ: Are you dual wielding flails and if not, why are you failing us?
Because the Prot Warrior artifact appearance with the flails was a Mage Tower appearance, and by the time that rolled around, I really just didn't care anymore. I didn't know we'd eventually be able to DW them, but even if I had, I probably wouldn't have cared enough at that point to do the work to finish it.
I'm perfectly happy without them.
Okay, so that's the Queue for today. Take care of each other. By the time you read this, I'll be back at home in bed with blood leaking out of both of my eyes.