How to play Diablo Immortal with a controller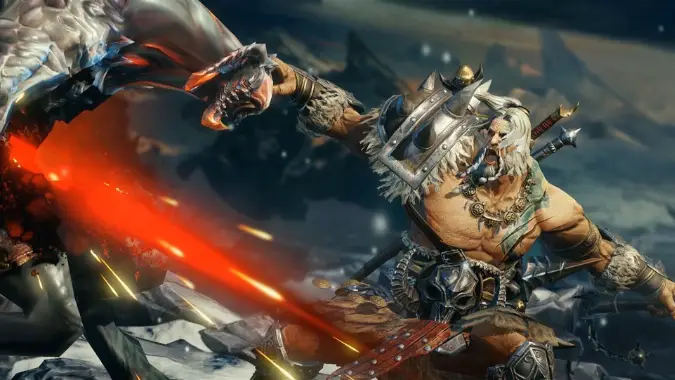 We live in a wireless world. Good riddance to coils of cables, to tumbleweeds made of wires shoved behind media stands! If there's a way to avoid tethering myself to hardware, I'll usually take it. And for Diablo fans who might want to tackle the upcoming Diablo Immortal mobile title with a game controller, our wireless way of life is very good news.
I have no doubt that Diablo Immortal will feel great to play on native hardware. Touchscreen controls have improved by leaps and bounds, and based on the early hands-on experience I had back at BlizzCon 2019, I think the core Diablo experience will live and thrive on mobile platforms.
But when smashing demons and saving the world, a nephalem should use the weapons that makes them feel most powerful. So when the game does launch, some players want to have the familiarity of a controller. Here's what you need to know to connect your peripheral to a phone or tablet.
Controller support is still not guaranteed – but Blizzard is sure going to try
The team did field questions about controller support during BlizzConline, but they haven't committed to whether it will make the final build. They've heard the player request and interest is definitely there for the community to use controllers with Diablo Immortal. But as with most aspects of game development, it's not so simple to implement.
In a Reddit thread after the event officially concluded, Lead Designer Wyatt Cheng gave a little more insight into why controller support isn't a guarantee. "The main challenge right now is that full controller support isn't just movement and skill usage, it's also menus, inventory management, paragon trees, NPC UIs, chat, etc," he wrote. "To set some expectations – we would love to see controller support but full controller support may not make the release version of the game."
So with Diablo Immortal, and any of Blizzard's other upcoming mobile projects, controller support will probably be a case-by-case issue. Keeping that in mind, let's move on with the information you'll need for any mobile games that do have the option to play with controllers.
A caveat about wireless controllers
One critical point to keep in mind is that wireless controllers can only be synced to one device at a time. So if you pair it up with your phone, you'll need to disconnect the controller and re-sync it to your console when you're done.
Fortunately, syncing controllers with other devices is straightforward. The best, and in some instances only, way to connect your hardware pair is with Bluetooth. This technology isn't everyone's favorite thing, but with the sheer variety of cables and ports out there across all the different parties, it's the most straightforward way to go. It's also the easiest and fastest way to go with any wireless controller.
How to set up (most) mobile hardware with a wireless controller
The steps for set-up will be pretty similar across most hardware:
First things first, make sure your mobile device has Bluetooth enabled. Seems obvious, yes, but it's the equivalent of making sure something is plugged in or turning it off and on again before calling tech support. So just double check.
Then, put your wireless controller into pairing mode. For an Xbox Wireless Controller, just hit the round button near the bumpers. For a PlayStation DualShock 4, press both the PS button and the Share button at the same time. If you're looking to use a different wireless controller, check with the manufacturer on how to activate pairing mode.
Once you're in pairing mode, you should then see the controller appear in your phone or tablet's Bluetooth settings. Go ahead and tap connect, and your nephalem is good to go.
Double-check specs if you're working with non-standard hardware
As I said, that should take care of you for most hardware. We're at an unusual juncture where the current generation of console hardware just began, so even the latest mobile devices don't have support for accessories from the PlayStation 5 or Xbox Series X. Expect that to change within the year. By the time Diablo Immortal is out, compatibility may not be an issue with the newest Sony and Microsoft controllers.
I've focused on PlayStation and Xbox since they're the heavy hitters of console players. If you're rocking a Google Stadia controller or a third-party device from Scuf, the process should be the same. Just keep in mind that iOS and Android developers may not have the dev kits to support those devices.
If you're gaming on an Apple device, here are the wireless controllers currently supported:
Xbox Wireless Controller with Bluetooth (Model 1708)
Xbox Elite Wireless Controller Series 2
Xbox Adaptive Controller
PlayStation DualShock 4 Wireless Controller
There are additional peripherals with the MFi (Made for iOS) protocol that might have support, but compatibility may vary by Apple product and by game.
Android devices are a bit more of a free-for-all in terms of compatibility. Your best bet is to go directly to the manufacturer's support website to double-check whether your controller of choice will work with your device.