Catch up with Otherweald D&D campaign in time to join us for a new episode this weekend!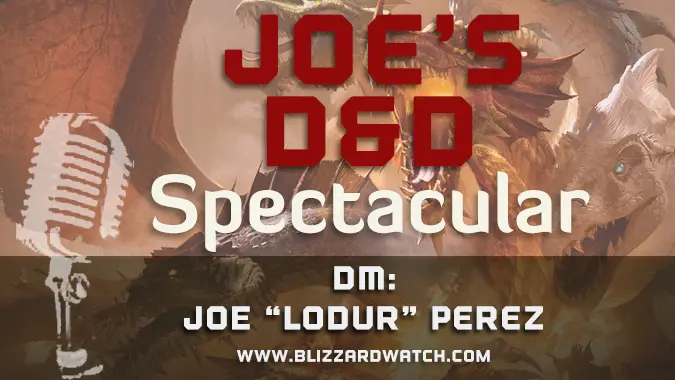 Welcome back friends, to the interplanar circus of horrors and delights that is our current Blizzard Watch D&D campaign! Our troupe survived the first act of this new campaign, only to find themselves faced with the greatest horror of all: a perfectly abnormal boardwalk filled with carnival games and food treats from across the planes!
If you missed it, there's plenty of time to catch up on the whole campaign before our next episode. We're playing again this Saturday, March 20 at 2:30pm central and you can join us live on our Twitch Channel to find out what happens in real time in act 3. In the next episode, our party of Andrew, Cory, Deb, Liz, and Matt will be once again joined by Anne Stickney to round out our adventuring crew. It's going to be a fun session, so join us!
But before we head into the next game, we should talk about what happened in episode 2 of Otherweald! Let us first provide an accounting of our team of fearless adventurers:
Before we recap too much of what happened, I think you should give the session a listen — it had quite a bit to digest. If you've already listened, go on and refresh your memory with the recap below.
https://soundcloud.com/blizzardwatch/blizzard-watch-plays-overweald-02-the-magical-menagerie-mystery
The episode opened with our stalwart band of adventurers on the boardwalk of the interplanar circus, with all of the carnival games and food one could ever want. The first thing they noticed, however, was a Tortle in a locked cage suspended above a dunk tank filled with half-shark, half-human creatures who seemed intent on devouring him. The booth, run by a small imp in a tuxedo t-shirt, was set upon by Mae, who took great offense to the Tortle being restrained. After almost killing the Imp and then him running far away, the combined efforts of Rahn, Mae, and Diener's magic freed Yortle, the party's latest member. After some introductions, Mairsy decided it was time to eat — after all, it had been one heck of a day so far.
The group made their way to Lovely Meals Canteen, a place were food from all over the planes could be found. The only items on the menu were "whatever you want" and "Chef's Special," which cost of one God's Coin. Without hesitation, Mairsy orders corn dogs — one for each hand, of course — and delights in consuming the fried treat. Mae, ever-cautious, decides not to partake but the rest of the party decided that maybe corn dogs would be a good idea. While eating their fill of carnival food, they notice one person who bought the Chef's Special being brought to tears of joy by the experience — but none of them turn back to try the Chef's Special themselves.
They stroll down the boardwalk to Dr. Lerousx's Magnificent Menagerie, which is filled with all manner of strange creatures, including a strange ape-like creature with a foul temper and fouler words which Mae escorts the party away from. In the Fortune Terller's tent, they meet Sssokardisa, who proves her power by telling everyone something only they would know. Rahn paid the fortune teller a God's Coin for a true vision, and Ssokardisa left her with a cryptic message and bid her to pay heed in the moments to come.
After this the party was teleported back to the main circus tent, where the arena was filled with water, the approximation of a boat deck complete with mast, and that same very angry ape man. The ringmaster, now dressed as a pirate, bid welcome to all manner of beings still in the stands, encouraging them to enjoy the mayhem!
You should really listen to the episode for some thrills and some grand revelations. This weekend we'll be returning to the carnival to see if our adventurers are up for another show. So join us live this Saturday, March 20, at 2:30pm on Twitch to see just what happens!