The Queue: It is I, Jovan!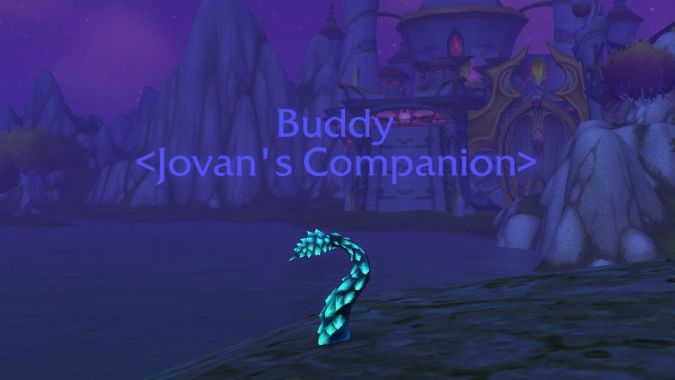 Hello, Queuepeople! Today, your Queue will be written by Jovan, AKA me. Mitch had to go do things. Don't worry, though, he left you in my very capable appendages normal human hands.
Okay, enough about me. It's time to Q&A!
---
SAYORNIS STILL EATS FOOD:
Sundae Q4tQ: Sprinkles or Jimmies? Rainbow or Chocolate? WE NEED ANSWERS!
If I, Jovan, must pick, then I would choose rainbow sprinkles. And then I would never talk about sundaes again.
---
MATTHEW ROSSI MADE A COMMENT:
All time is a single fixed point in space.
Ha! You almost got me with that one, Rossi. You have to get up prettttyy early to trick Jovan into believing false statements about time and dimensions.
---
DUTRIMI DOESN'T LIKE WAITING:
Q4tQ: What sort of existential dread did you feel when you found out that 9.1 probably won't hit until August? Surely the content drought makes it a bit rough on the writing.
For starters, with the PTR coming up in less than two weeks, and with help from the Old Ones I think it's more realistic that we'll see 9.1 in the late-June/mid-July period.
But to your actual question, it wasn't dread I felt — it was more like what you'd call sadness. I want the game to do well. I want the people working on the game to be lauded for the hard work they're putting into WoW during a pandemic. I want people to be happy with the game they're playing, because it's better for everyone.
So it wasn't existential dread. It was resignation that maybe Shadowlands won't be what players want in the end, and sadness for what that might mean for the future of the game.
---
SIBYLLE ASKED A QUESTION TO SOMEONE WHO IS NOT ME:
Q4tMitch: Which band do you most miss hearing live, and why is it Muse?
(*points excitedly* There, I did it! I asked a non-sundae question!)
I've been lucky enough to attend some musical concerts with my pal, Mitch, including a MUSE concert. What I enjoyed most about them was that it wasn't just a concert — it was a whole performance. The lighting, the set design, the transitions from one song to another… it all elevated the concert to something beyond just a band playing their songs.
Plus, they sounded really good.
---
KALCHEUS WON'T TRICK ME LIKE THIS:
Q4tQ: Which country have you spent the second most amount of time in?
Ha! I won't fall for this one. I've been to all the planets an equal amount of time! Nice try, Kyle.
---
RIPTIDEZ (VIA DISCORD) WANTS TO TRAVEL FAR, FAR AWAY:
What if after Shadowlands, we end up in either the Far Future or Distant Past of azeroth? Not so much for the change of scenery (which would be cool), but rather to get past the "we are the most important champion who ever existed" weightiness that constantly follows us at this point, 8 expansions in? I.E. a world in which no one knows of or cares about us? Could be a "reset" without resetting your character
I'd love that more for the change of scenery, and so players could experience some of the older stories that helped shape and define the world. But I'm not sure Blizz will ever get past us feeling larger than life.
We literally traveled to a new plane of existence in Shadowlands, and that could easily have been the perfect place for a reset. Granted, Blizz has explained it in a way that makes sense — the drought isn't normal, no mortal souls have entered, we know Sylvanas, etc. — but still. The opportunity was there and we almost immediately became an integral part of the story instead.
There are other ways to make our characters feel less important, of course, but it's a hard balance to strike, especially when players have so many years invested in a character. Make us feel too weak and it's not fun (plus it doesn't necessarily track with our achievements thus far). Make us too strong and it makes doing "little" things feel like they're beneath us. Like, seriously, why would a champion of Azeroth ever say, "Sure, lemme go grab that poop for ya! Sure do love me some poop while I fight off world-ending threats!"?
---
UIYA (VIA DISCORD) ASKS ABOUT
HOTS
— NO, THE OTHER HOTS. NO, THE OTHER, OTHER HOTS:
Do y'all think blizzard will miss their chance to capitalize mobile MOBA markets to riots Similarly to LOL on pc?
I think Blizzard missed their MOBA chance a long time ago, and trying to bring Heroes of the Storm to mobile right now would be too little, too late.
I hate saying that, because I love Heroes of the Storm, but it clearly didn't pan out how Blizz had planned, and there's very little evidence indicating that a move into the mobile MOBA market would be worth the investment, unfortunately 😕
---
KAYDIEM🇨🇦🇺🇸 (@KAYDIEM_ ON TWITTER) THINKS AHEAD:
Given we've travelled to a different dimension in SL, like we did in WoD with AU Draenor, do you foresee us returning to Azeroth next expac or do you think we take come Cosmic Doorway to a diff planet/reality? Why/why not?
I think we're heading for something big — something cosmic. For starters, we're heading into patch 10.o with the next expansion — if I were Blizz, I'd want to go all out for something like that. And what better way to do that than with a cosmological war?
They've been laying the groundwork for a big Light vs. Void vs. Fel vs. Death vs ??? kind of thing for a long time now, and with the kinds of forces we're already dealing with in Shadowlands, it feels like we're going to attract the attention of some baddies. I mean, if we stop Death, the Void and the Light — which both have histories of invading the Shadowlands — will have an opportunity to strike. Plus, there's all that crazy stuff with Dreadlords that may or may not be coming to fruition soon.
Then again, Blizz can be good about taking sharp left turns after an expansion, so maybe we go to the other side of Azeroth in 10.0. I don't think that'll happen, but it's a possibility.
And now that we've reached the end of our Queue, I have to dramatically reveal something: It is not, in fact, Jovan who wrote this Queue. It was I, Mitch, all along! The dead giveaway was that our lovable quip-meister didn't make nearly enough quips.
APRIL FOOLS, Y'ALL! #Gotem