It's a cotton ball, it's a cloud…no, it's cute samoyeds to save your Friday!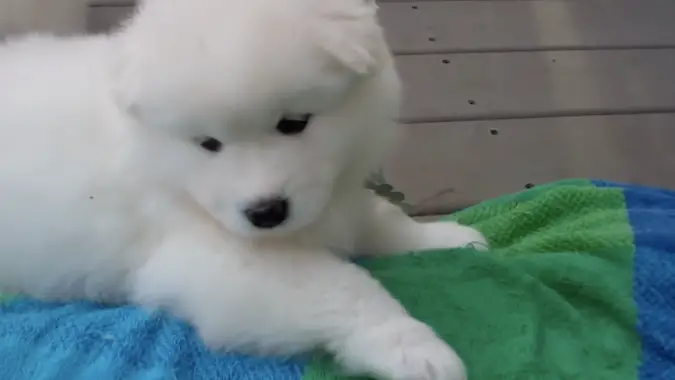 I do my best to come up with weekly cuteness collections to suit all the possible preferences of our Blizzard Watch audience. Today, though, I have an entirely selfish roundup. Because I have had a terrible week and am sporting a record number of bruises after losing an altercation with some belligerent pavement, I bring you one of my personal favorite things from the world of ultimate fluffiness: samoyeds. I'm pretty sure that your day will be at least a little better after enjoying these canine companions being flippin' adorable. Have a good weekend!
The ultimate in relaxation
Pretty sure watching a puppy this majestic in repose is guaranteed to lower your blood pressure.
When you have a hammer, everything looks like a nail…
…and when you're a puppy, everything looks like a toy. Your sibling's face, your mom's tail, your human's camera: it's all fair game!
"Hey. Hey."
"No, seriously, wake up nao."
"Don't mock me, hoomin."
"Your measly awoos will never be as adorable as mine!"
Let the de-stink-ening commence!
Also somebody get this duo an industrial-strength dryer ASAP.
And finally, the classic
D'awww.