Winter Wonderland 2021 brings that festive feeling to Overwatch, but only for a couple more days
Click here for more photos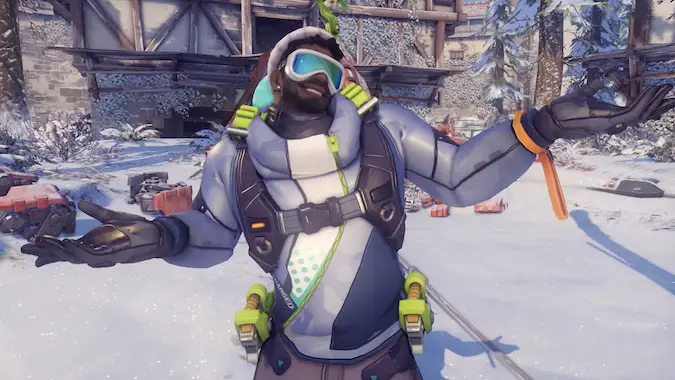 The final special event in Overwatch for 2021 is Winter Wonderland. This celebration of all things related to the winter season is live now — it started December 16 and goes until January 6, so you only have a few more days to finish up all your holiday goals before the event goes away til next winter.
A fresh and festive batch of cosmetics is always the highlight of a special event, and this year has put a focus on cozy and cute looks. The event's teaser trailer cast D.Va as Santa Claus, and she appropriately has a new legendary that transforms her meka into a sleigh. I'm a little sad D.Va herself isn't wearing a red pom-pom hat, but the plaid ensemble is adorable enough that I can manage. And while I don't think it's actually Orisa pulling the sleigh during the teaser video, the tank will get to rock a reindeer look of her own. She's adorable with antlers and a glowing red nose. Way cuter than Roadhog. Other legendaries include a Wrecking Ball with a Santa/snowball combo, Genji getting a frosty spikes, and Baptiste ready to hit the snowboarding slopes.
Plus, Mei mains rejoice, because these three weeks are your time to shine in the Arcade.
Sleigh my name, sleigh my name.

Ride into winter as Sleighing https://t.co/mvJh2Ma0Wt (Legendary). Overwatch Winter Wonderland begins Dec 16. pic.twitter.com/jcRhgvRrkl

— Overwatch (@PlayOverwatch) December 14, 2021
As has become standard for Overwatch events, each week will have limited-time unlockable items for a single hero. The first week stars Tracer in the coziest knit sweater. Week two introduces Mistletoe Symmetra. (I'm pretty sure her leafy crown is actually holly, but it's pretty whatever plant it is.) And the final week gives Brigitte a pink and teal ensemble dubbed Peppermint Bark.
Special events are always a good time for spending queuing up in the Arcade, which is a good place to nab a couple extra loot boxes. The Winter Wonderland modes are extra useful for the Mei players. She stars in the 4v1 battle of Mei's Yeti Hunt; Mei's Snowball Offensive, which tests your accuracy in a team-based one-hit-kill arena; and Snowball Deathmatch, where it's every player for themselves. Last year, the team added mode that's a very literal adaptation of freeze tag, and that's also back in the Winter Wonderland rotation.
So pack your snowballs, lace up your boots, and get into the game from December 16 through January 6 to collect all your Overwatch presents.
Originally posted 12/14/2021. Updated 1/4/2022.