When is the Overwatch 2 PVP beta? The beta test kicks off on April 26
Overwatch 2 will officially start its beta test on April 26 — at least for the PVP portion of the game. Testing for the game's PVE mode will follow at a later date, not yet announced. The game has been in the works for awhile, but it's been radio silence from Blizzard — and when they announced the beta news, the Overwatch team apologized for taking so long to update us, and for neglecting the first Overwatch while they worked on the sequel. But the past is behind us, so let's focus on what Overwatch 2 has to offer, and when it will be available for us to see during beta testing.
The game is currently in a closed alpha phase, which mostly includes Blizzard employees and Overwatch League pros. We'll see a wider beta starting on April 26, and beta signups are available right now. Some time after this beta — no date given — there will be a bigger beta open to the public, to stress test the servers. If you are not able to join the closed beta, there will be a chance to see it before it launches.
Now the important question: just what will we be testing? What's in Overwatch 2? Let's look at the features of the game as it heads into beta next month.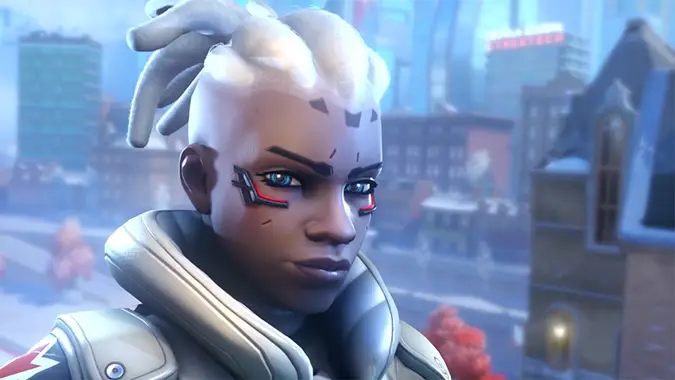 Brand new content arriving with Overwatch 2
A new hero. In the Overwatch 2 trailer, we met one hero not previously playable in Overwatch: Sojourn. She has a railgun that can be either as an automatic weapon, or as a single-charge shot. She worked with members of Overwatch back in their Golden Age to apprehend an omnic member of Talon, Maximilien. Afterwards, she laid low in her home country of Canada — she's the first Canadian Overwatch hero — until Winston called her back into action. It was confirmed that Sojourn will be a central figure for the plot of Overwatch 2. So far, she's the only new hero in the beta.
New maps and a new map type. Four new maps are being added:
Circuit Royal is an escort map.
Midtown is a hybrid map, meaning one team works to capture a point at the start, before transitioning into an escort objective if the first checkpoint is taken.
New Queen Street and Colosseo are Push maps.
Push is a new kind of map, and we see one of them featured in the preview trailer where a robot literally pushes a wall down the street, in either direction, depending which team has control. (And is comically proud of itself for doing so.) It has not yet been confirmed if these four maps take the place of other maps, or just additions to the available maps.
A new ping system. New Overwatch 2 director Aaron Keller confirmed that a prototype for a new ping system being tested, but we don't have any details yet. Based on what other games have had, this would imply there will be a way to mark  map to indicate where players and objectives are located, helping players figure out where to go. This is especially helpful when not every player has, or uses, voice chat. This lack of clear, or common communication is something that can hold back a team from working together effectively.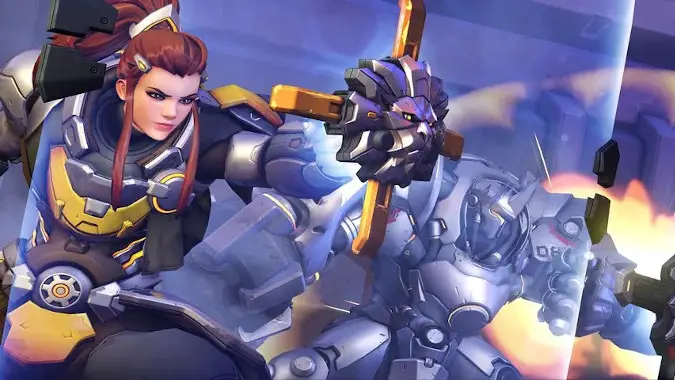 Game updates arriving with Overwatch 2
Smaller teams. But the biggest change in Overwatch 2 is likely that the PVP teams are changing from 6V6 to 5V5. When Role Queue was added to Overwatch back in 2019, it required two tanks and in other modes three-tank GOATS teams dominated. Blizzard decided this was not the best group makeup, that one tank was sufficient, and that needing two was slowing down the queueing process and the group dynamic. Teams of five would be better, and therefore Overwatch 2's PVP beta will feature teams of five.
Hero reworks. Some heroes are receiving some major reworks, that are sure to anger and delight many fans. Reinhardt will have better control, receiving a second Fire Strike, and will be able to cancel pin attempts mid-charge. Brigitte's shield bash received a buff and a nerf: it will be able to burst through others' shields to damage them, but has lost its stun effect. Winston will receive a similar effect to Sojourn's railgun — he'll be able to charge up his electricity gun to fire a long-range attack.
Mei is changing quite a bit. Instead of her famous suite of"freeze them in place" skills, Mei is losing some control abilities, but will deal a lot more damage. Sombra is receiving some buffs, including being able to see injured players through walls. But the character that has seen the most rework so far is Bastion. He will be able to move while in sentry mode and his turret will have unlimited ammo, but deal 40% less damage. He is losing Tank form, and instead will have Artillery as his new Ultimate, allowing him to drop artillery strikes on three different areas. His Self-Repair is also being replaced with a Tactical Grenade, that will bounce off surfaces and stick to enemies. It's a big shift from defense to damage.
While we've only seen a few hero reworks so far, many — if not all — characters will see changes. And these will go through iterations throughout testing, so you'll want to get your feedback in early to help shape the game.
Get ready to sign up for closed beta, or jump into the public beta once it is available. Then be patient for the long-awaited PVE edition, which will be coming out eventually.
Originally published 3/15/2022, updated 3/18/2022