What has surprised you most so far in Dragonflight?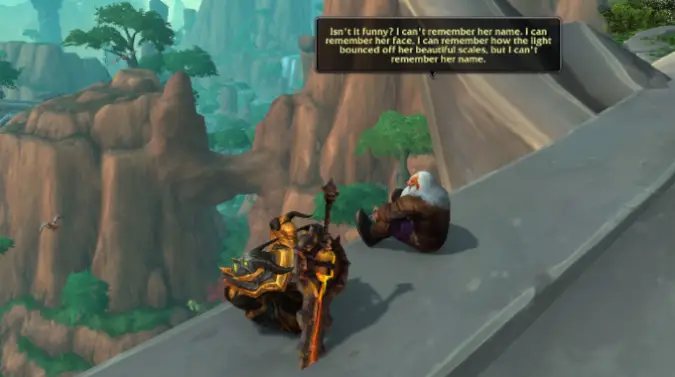 Dragonflight has had a lot of surprising moments so far, but in terms of most surprising, it's a toss up between some, well, two pretty big spoiler-y moments and the fluffy Tibetan Mastiff-like dragon-puppies that the Centaurs have. Actually, come to think of it, there are so many types of partially Draconic fauna in Dragonflight that it feels like there may literally be Dragon DNA in the Dragon Isles themselves.
I have had a lot of surprises so far in Dragonflight. The long quest where you sit next to an old Dragon named Veritistrasz and he tells you a story is a stand-out as well, and is mostly a surprise for how patient it is and how it quietly pays off so much that we've not ever really known about Dragons and Dragonkind. Others cut me deeply — I was shocked to see one of those aforementioned spoiler-y moments. So there's a lot of different ways to be surprised, and this expansion has managed a few of them at least so far as I'm concerned.
But that's just me, and as always, I'm curious what y'all were shocked by, or surprised by pleasantly, or whatever flavor of I did not see that coming you've had playing in Dragonflight. Were you surprised by any of the zones in particular? Did you laugh unexpectedly, like when two Orcs, including a former Dragonmaw Orc, came to the Ruby Life Pools on a pilgrimage of penance? Share any of these moments, like tears in rain, with us now.
Editor's Note: Please be sure to use spoiler tags in your replies as appropriate!