When does Hearthstone Battlegrounds Season 3 start? Look for the latest Season on January 17!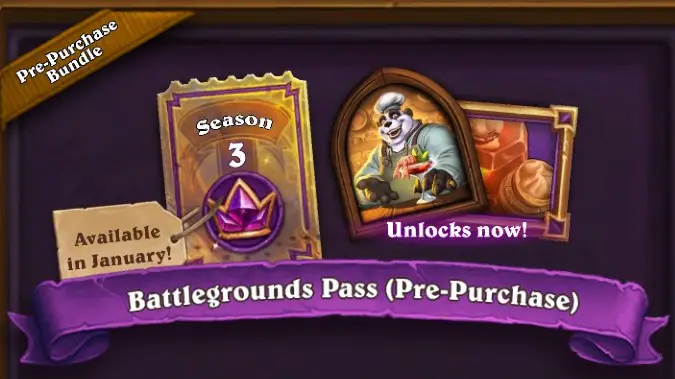 We have an official start date for Hearthstone Battlegrounds Season 3: January 17! This update will bring us Undead minions, dual-type minions, and the return of Professor Putricide as a hero.
With the new Season, we're also getting a brand-new Battlegrounds Track filled with cosmetics — this time, themed after Silvermoon — and a new Season Pass, which can be purchased for either 1500 Runestones if you buy it in-game, or $15 if you get it through the Battle.net shop. Getting the Season Pass means that you unlock a bunch of extra cosmetics, but the track also contains free rewards along the way for those players that decide not to get it.
Hearthstone Battlegrounds Seasons are supposed to be analogous to expansions for "regular" (Constructed) Hearthstone — which means that they run for about four months each. They're always released on the x.2 patches: Season 1 ran from patch 23.2, which released May 10, to August 30 — that's almost four months. Since Season 2 started with patch 24.2 on August 30, Season 3 should have started in late December. However, that's right at the end of the year holidays — which makes it completely understandable that it's coming in mid-January.
So mark the correct date on your calendars: Season 3 for Hearthstone Battlegrounds starts no later than January 17, and to celebrate the release of the new content, you should also expect to get a Twitch drop through January 23 — the Lightkeeper Xyrella skin — by watching any Hearthstone Twitch stream for 1 hour. Don't miss out on it!
Originally posted December 23, 2022. Updated January 10, 2023.