Heroes of the Storm
No comments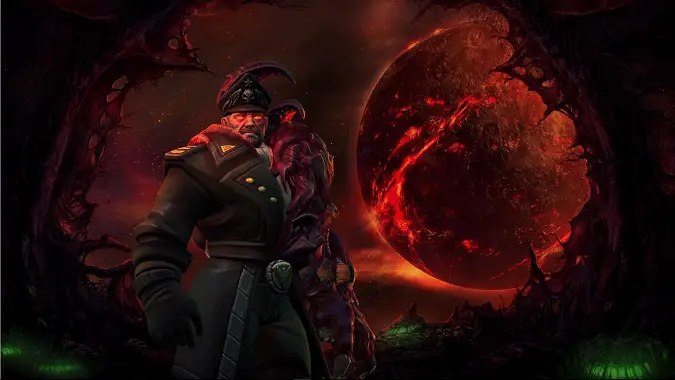 Stukov's Heroes of the Storm hero spotlight goes viral in all the right ways
As promised yesterday, we now have an official look at Alexei Stukov, the next hero coming to Heroes of the Storm. One of the big questions in the community after he was officially teased was whether he'd be a Support, a Specialist, or something else. The answer, it turns out, is that Stukov will be a melee Support unit.
Utilizing viruses as a way of both healing allies and hurting enemies, Stukov looks like he'll bring nearly as much damage as he does healing. Take a look for yourself:
Healing Pathogen (Q) — Infest an allied Hero with a Healing Pathogen that heals the target for 240 Health over 4.5 seconds. Healing Pathogens can spread to a nearby allied Hero every 0.75 seconds, and a single Healing Pathogen can spread to each allied Hero 1 time.

Weighted Pustule (W) — Hurl a pustule that impacts all enemy Heroes in its path, dealing 20 damage and Slowing by 5%, increasing to 50% over 3 seconds. Deals an additional 80 damage upon expiring or being removed.

Lurking Arm (E) — Channel at a target location, creating an area that Silences enemies inside and deals 144 damage per second to them. Deals 50% reduced damage to non-Heroes. Does not cost Mana while Channeling, and lasts until canceled or interrupted.

Bio-Kill Switch (Trait, D) — 

Activate to detonate all of Stukov's Viruses. Each Healing Pathogen heals its target for 500 health, and each Weighted Pustule does 100 damage and Slows its target by 70% for 2 seconds. Can be cast while Channeling Lurking Arm.

Flailing Swipe (R) — Swipe 3 times in front of Stukov over 1.75 seconds, dealing 50 damage to enemies hit and knocking them away. Each swipe is larger than the previous.

Massive Shove (R) — Extend Stukov's arm. If it hits an enemy Hero, they are rapidly shoved until they collide with terrain, taking 200 damage. Stukov gains 50 Armor while shoving an enemy.
If you want to get an idea of what all of these look like in action — and you do, because Massive Shove is amazing — be sure to watch the full hero spotlight below:
As you may have gathered, Stukov's strength appears to come from his ability to disrupt the enemy team with slows, silences, and knockbacks. In fact, if not for his Healing Pathogen, it would probably have been fairly easy to classify him as a Specialist rather than a Support. Regardless, he looks like the kind of Support hero that will get a lot of people wanting to suddenly play Support.
Oh, and the best part? He has a pirate-turned-kraken "Admiral Krakenov" skin that is everything you could ask for. If you're as sold as I am on Stukov, Destructoid has a nice breakdown of all his talents, which should give you a nice head-start on planning your particular blend of virulency.